Springfree Trampoline vs. Skywalker Trampolines | A Fair Comparison 
Get an unbiased and honest view of the differences between Springfree and Skywalker trampoline models to decide which is best for your family and backyard.
Springfree and Skywalker are two prominent trampoline brands, and each has something unique to offer trampoline seekers. 
Besides being among the top brands to buy a trampoline from, Springfree Trampoline and Skywalker Trampolines differ quite a bit from each other. 
The differences between the two are important to note, as they will set the stage for deciding which brand would be better for you. 
Before you ask, yes, we realize we are Springfree Trampoline doing a comparison between our Trampolines and a competitor's. That may lead you to conclude that this will be a biased propaganda piece, extolling all the "amazing things about our product!" 
But that's not how we operate at Springfree. Sure, we're going to state when it would be advantageous to buy a Springfree Trampoline over a Skywalker Trampoline. But we're also going to do the opposite: We're not afraid to say when our Trampolines are not the best fit for your goals. 
So, this comparison will be fair, honest and objective and will give you true insight into two trampoline brands that may or may not be the best fit for you. After reading through this, you will be able to decide for yourself whether Springfree, Skywalker or neither is right for you! 
What Is Springfree Trampoline? 
Springfree Trampoline, established in 2003, created the springless trampoline—which was the first alternative to the traditional, spring-based, design.  
They have risen in prominence primarily due to their safety and durability (which will be discussed later) and are the only mainstream brand to exclusively sell springless trampolines. 
Springfree currently sells nine trampolines and various trampoline accessories. They have received numerous awards for their innovative design, including the Top Product Award of 2023 and the Mom's Choice Award of 2023.  
A Springfree Trampoline: 
What Is Skywalker Trampolines? 
Skywalker Trampolines, which was established in 2005, has grown into one of the premier trampoline brands after starting as a local company in Brigham City, UT. 
Known for their affordable trampolines, Skywalker now has 27 retail partners nationwide and sells almost 70 trampolines, making them arguably the best brand when it comes to variety.  
Besides trampolines and trampoline accessories, Skywalker sells sports equipment and playground equipment, including Jungle Gyms and GeoDomes.  
A Skywalker Trampoline, courtesy of Wayfair: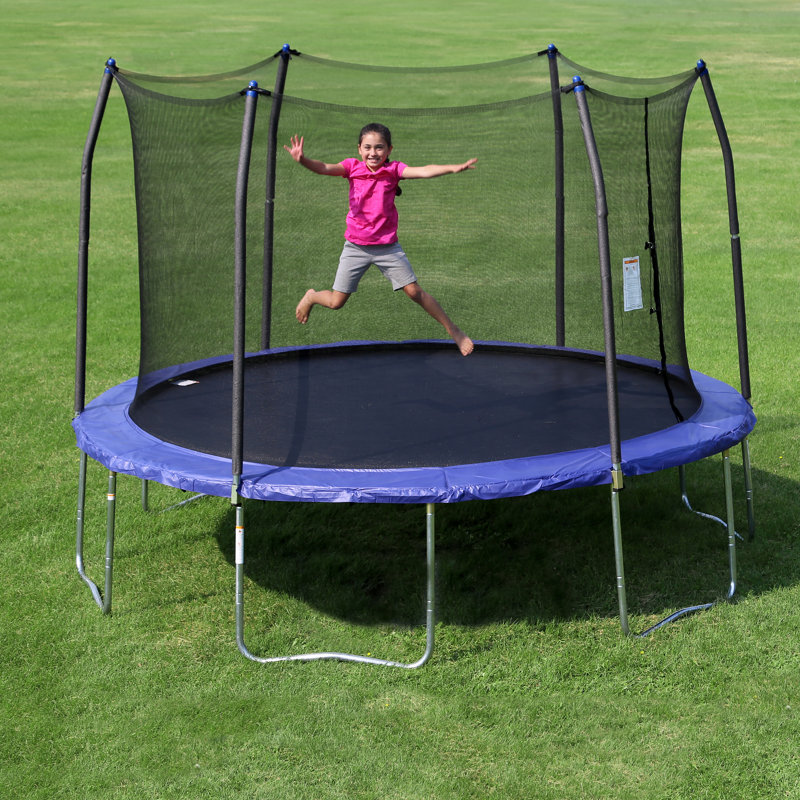 How Do Springfree and Skywalker Compare?  
Now that you have some background information on each brand, let's go over how this comparison is going to work. 
We've chosen five essential categories to compare the two brands' trampolines: Safety, quality/warranty, durability and pricing. We will use a sixth category titled "Other Factors" that will touch on weight capacity, installation, and accessories. 
We will provide descriptions of what the brands offer in each respective category before choosing a winner. 
Trampoline Safety 
Springfree  
Springfree Trampolines all use composite mat rods placed under the jumping surface instead of springs for its bounce system, have a frame that lies underneath the mat (making it impossible to land on), include a net that flexes when jumped into, use flexible net rods instead of metal trampoline poles and have a mat with no hard edges. 
Skywalker 
Skywalker Trampolines include a no-gap enclosure that helps eliminate gaps between the net and mat, their metal poles have foam padding and their net includes a dual zipper and clip closure.  
Winner: Springfree.  
Why? Springfree Trampoline's safety features, as independent tests show, are industry-leading and have proven to eliminate 90% of product-related injuries—the only trampoline to accomplish that feat. 
While Skywalker's Trampolines have no-gap enclosures and contain padding over the springs and poles, safety concerns do persist.  
Their metal poles are static, which can cause injury to wayward jumpers, and the nets on their non-Epic/Premium Trampolines are poor quality, which could lead to a falling injury if it doesn't hold up. Skywalker's Tramapoline parts typically break down more quickly than Springfree's. 
Trampoline Quality/Warranty 
Springfree  
Springfree Trampolines use mat rods that are 3x stronger than steel and 4x more flexible for its jumping system, the mat and net are UV-resistant, the frame is galvanized and has triple layer rust protection and their Trampolines are the most tested on the market (tested to three million jumps). 

10-year warranty on all parts of the trampoline (for all models).  
Skywalker 
Skywalker Trampolines include a rust-resistant galvanized frame, galvanized steel springs, UV protection for the mat and net and use of a reinforced T-joint construction for stability.  

Warranty is product dependent, but a typical range for Skywalker is three years on the frame and one year on all other materials. 
Winner: Springfree.  
Why? Springfree Trampoline ranks ahead of Skywalker Trampolines when it comes to trampoline quality, due to its use of strong materials, weather-resistant features and a solid 10-year warranty.  
Skywalker Trampolines have the weather-resistant features you want to see in a trampoline. But there's a reason why many of their trampolines are cheaply priced: They're not made from the same premium materials as Springfree Trampolines.  
While their warranties vary depending on the model you choose, Skywalker's cheaper trampolines have low warranties. For example, Skywalker's 15 ft Round Trampoline ($299) has a 3-year limited warranty on the frame and a 1-year limited warranty on all other materials.  
See below for how Springfree and Skywalker compare to other brands on their warranty policies:  
Trampoline Durability 
Springfree  
Because of their industry-leading quality features, Springfree Trampolines can last for 10+ years under reasonable use and require little maintenance to upkeep. Its 10-year warranty backs up this sentiment. 
Skywalker 
The durability of Skywalker's Trampolines depends on which model you're looking at, who's using the trampoline and what it's being used for. Their trampolines' warranties, a key indicator of confidence in the longevity of a product, hint that the cheaper models may only last three years and might fail within six months. Skywalker's Epic/Premium Series of Trampolines should be able to last longer. 
Winner: Springfree. 
Why? Each of the nine Springfree Trampolines is built to last for 10+ years as long as basic trampoline safety rules are followed. 
With Skywalker's Trampolines, there's much more variability, especially on their cheaper trampolines. It's not to say that their cheap trampolines can't last longer than their warranty period (three years on the frame) but it would be an outlier and not the norm if they were to last as long as a Springfree can.  
It's also very likely that a Skywalker Trampoline will need much more trampoline replacement part changes than a Springfree Trampoline under reasonable use.  
Trampoline Design 
Springfree  
The Springfree Trampoline design is unique and can add to a backyard's aesthetic with its sleek appearance. It's also the only trampoline on the market that can be fully customized using seven different colours.  
Skywalker 
Skywalker's higher-priced trampolines, like their Premium Series, have a solid design that can fit into a lot of backyards seamlessly. But their cheaper trampolines—the bulk of their product base—are basic and may be considered an "eye sore" by some.  
Winner: Springfree. 
Why?  The difference between the design of a Springfree Trampoline and a Skywalker Trampoline is that a Springfree maintains a distinctive presence, whereas a Skywalker looks like a regular trampoline.  
Beauty is subjective, so not everybody will agree on who has the better design. However, the trampoline customization options that Springfree offers are a key distinguishing factor in the design category.    
How a Springfree Trampoline looks in a backyard: 
How a Skywalker Trampoline looks in a backyard, courtesy of OfferUp: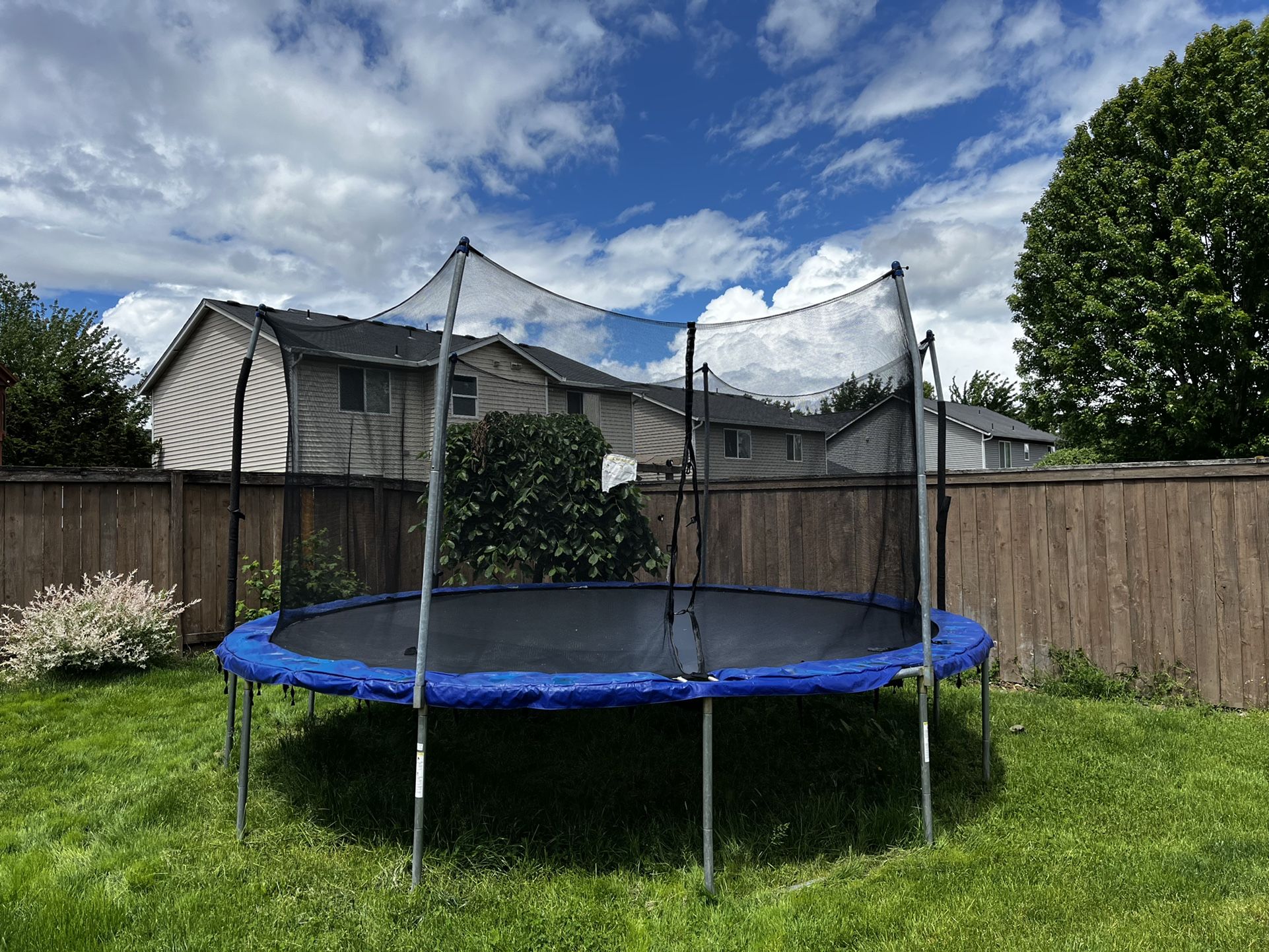 Trampoline Pricing 
Springfree  
Springfree Trampolines are priced at a premium and are among the most expensive trampolines on the market. They range from $999-$4,499 depending on the size that you choose. Financing is offered by Springfree. 
Skywalker 
Skywalker is known for its affordable trampolines. You can purchase a Skywalker Trampoline for under $200; their higher-priced trampolines can go up to nearly $3,000.   
Winner: Skywalker. 
Why? Springfree Trampolines are premium trampolines, and because they are the safest and highest quality Trampolines you can find, they are priced as such. And some people, understandably, cannot justify paying thousands of dollars for a trampoline. 
One of Skywalker's strengths as a brand is they have an assortment of relatively affordable trampolines to choose from. Because of their product, and pricing, variability, Skywalker gets the edge on pricing.  
Check out our article on the cost of a trampoline to learn more about pricing factors/price ranges! 
Other Factors     
Winner: Skywalker.  
Why? Skywalker's Trampolines holds higher single jumper weight capacities, weight limits,  than Springfree on many of their Trampolines. 
Springfree's smaller Trampolines have a 175-pound single jumper weight capacity, and their medium-big Trampolines have a weight capacity of 220 pounds. Skywalker's individual weight capacities range from 200-650 pounds.  
Winner: Skywalker. 
Why? Because Springfree Trampolines are uniquely designed, the Springfree Trampoline assembly process can be difficult for some—particularly putting the mat rods in (professional installation is offered for $399).  
Since Skywalker's Trampolines are traditional and spring-based, the assembly process should be easier for most than it would be on a Springfree Trampoline.  
Winner: Springfree. 
Why? Springfree has higher-quality and more unique trampoline accessories—for trampolines and backyards—and their FlexrHoop is one of the best trampoline basketball hoops you can buy. They also contain weather-related accessories, like a Sunshade and Cover.  
Skywalker also has plenty of trampoline accessories and games to choose from but they're lesser quality than Springfree. However, on the accessories they share, Skywalker Accessories are typically less expensive. 
Note: Trampoline accessories are usually made for a particular brand's trampoline. So, a Springfree Hoop wouldn't be compatible with a Skywalker Trampoline, and vice-versa.  
Springfree Basketball Hoop: 
Skywalker Basketball Hoop, courtesy of Lowes: 
Which Trampoline Brand Is Right for You? 
Springfree and Skywalker are two of the premier trampoline brands in the industry and they stand out for different reasons. 
We went over a lot of information, so here's a quick summary of the highlights and lowlights of each brand: 
Springfree Trampoline – The brand with the safest, highest quality Trampoline you can buy that contains a unique design and should last for 10+ years. However, Springfree Trampolines are pricey and can be difficult to assemble.  

Skywalker Trampolines – The brand that includes the most variety of trampolines, with plenty of relatively affordable ones of different sizes to choose from. Skywalker Trampolines do have safety/quality concerns that may shorten their product lifespan and/or require frequent part changes. 
Which brand is right for you? The information you gathered from this article will give you a firm basis to judge for yourself whether Springfree, Skywalker or neither brand meets your trampoline goals.  
At Springfree Trampoline, it is our unequivocal aim to inform you about everything you need to know before purchasing and placing a trampoline in your backyard.  
We believe wholeheartedly that trampolines are made to inspire joyful moments and should never be a cause for frustration in your life.  
If you're curious about seeing the best trampoline models to help make your decision, we've got you covered.  
Below are some of our "Best Of" Lists that include the best trampolines you can buy this year. Springfree, Skywalker and other major trampoline brands are on there, and reading through the lists below just might lead you to find the ideal trampoline for you: