Meet Springfree
We inspire joyful moments. Moments that matter. Moments when you are wild and free. Moments of reflection. Moments of connection. Moments when you own the world. Moments when you surprise yourself. When you feel adrenaline. Moments when you just can't stop. Moments when you know you are safe. Your best moments. We believe that every family deserves the chance to create magical memories together.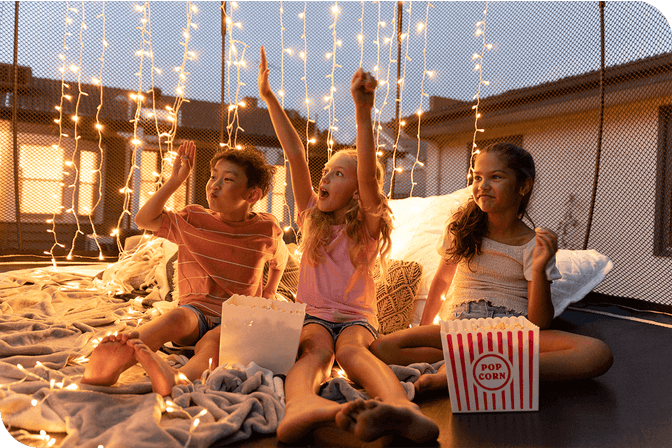 World's Safest + Highest Quality = Peace of Mind
We have spent 20 years researching, developing and testing all the components to offer the world's safest trampoline. Our top priority is to give families active, safe play in the comfort of their home and freedom to create lifelong memories.
Learn. Contribute. Make a Difference. Grow in Your Career.
As part of the Springfree family, utilize our perks and benefits to advance your career and explore new opportunities and skills.
Competitive compensation
Generous PTO
Flexible schedule
Health benefits
Retirement benefits
Parental leave
Team building/Social events
Caring and supportive team members
Maintaining a work/life balance
We can change your world and impact your life, while you enjoy the social environment and grow your career. When you are ready to make a big impact, then Springfree is indeed the place for you. Make your career jump and experience Springfree today!
Employee Stories

"Since my time at Springfree, I have held many job titles with a varied spectrum of responsibilities in several different market locations, yet the constant factor throughout has been our company's commitment to providing a quality experience to our customers and families, through a continuous investment in people, platforms, and innovative resources. Early on, I was encouraged to make my voice heard, something that continues as a motivator as we look for continued growth and opportunities." - North America Director of Customer Satisfaction

"At Springfree, everyone's passionate. Not just about their jobs, but about the company mission. An inspiring, creative and evolving environment where no day is like the other. Everyone cares tremendously and works hard. I feel I can share my voice and I am given the opportunity to implement my ideas. It is a great joy to bring the world's safest trampoline to families. The kids' full giggles puts a smile on my face every time." - North America Marketing Specialist

"Springfree Trampoline has been a wonderful company right from the start. They treat you like family, encourage a healthy work-life balance that has allowed me to spend more time with family. Overall, I am fortunate to work with such an amazing team of people, who have always supported me. As a parent, it gives me peace of mind knowing that kids are safe while on our "one of kind" product, encouraging them to be outside while having fun." - US Warehouse Manager

"I get to meet with different customers each day and chat with them about their life and family. I connect with them on a level that allows me to see the impact their new trampoline will have on their lives and their kids' lives. Each day is different than the last. I have an amazing network of people with whom I can count on for anything. I love that I get to build something that will inspire memories, encourage friendships, and strengthen relationships." - DFW Installer
Read more reviews on Glassdoor.
---
10 Years of Inspiring Safe Play
We're a company of longevity. We invest in our people, they stay, they prosper and we succeed together.
VP, Growth Marketing
"With over 10 years at Springfree, I have come to love the people I work with. There is genuine care and respect for each other at all levels of the organization and what is hard to come by is the authenticity behind it. It is not something that is visible but something to be experienced. We carry that same ethos in the way we treat our customers and the way we do business overall. We care and we inspire joyful moments."
Director of Sales, US
"The doors of safe backyard play that Springfree has opened for families and their children over the last 10 years have been very rewarding for me personally. I have children, family, and friends that have all grown up on their Springfree Trampolines. It has been a mainstay and a constant source of joy in this ever-changing world that we live in. Having the privilege to have been part of this has been gratifying, especially with my colleagues, who are now more like family members."
Ecommerce Specialist
"I have been working for Springfree for 10 years, responsible for e-commerce development and maintenance, I am honored to work here, bringing safety and happiness to children and families. Springfree is an employee-oriented/people-oriented corporate culture company. I have 3 daughters in these 10 years and hope they can also grow up healthy and happy."
Financial Planning and Analysis Manager
"Springfree has given me the opportunity to learn and grow, both professionally and personally over the last 10+ years, at a level that would be difficult to rival. There are strong family values felt within the company and everyone is supportive and respectful of one another. The passion for our product is always on display as we take pride in inspiring joyful moments for all. I am very fortunate to be part of this journey for so long with such amazing people!"
Careers at Springfree
Part-time Positions
Want to jump into a part time opportunity with us? Email your resume to hr@springfree.com to join our team!
#Springfree
Show us how much you love Springfree on Instagram