3 Best Canadian Tire Trampolines (2023) | Expert Picks
Get expert advice on which trampoline to buy from Canadian Tire. We'll take you through options for all budgets, so you can get the right trampoline for you!
Canadian Tire is one of the top places in Canada to buy a trampoline, with multiple trampolines available for purchase online and instore.  
Which ones are the best, though? Should you buy a trampoline from Canadian Tire or look elsewhere?  
Those are questions we will use our decades of expertise as a springless trampoline innovator and manufacturer to answer today. 
As one of the premier trampoline brands in North America, we will use our expertise to list out the three best trampolines at Canadian Tire. They will be ranked from least expensive to most expensive to give you options no matter what your budget for a trampoline looks like. 
This list was conducted honestly and with full transparency, and in that vein, we can tell you that one of our Springfree Trampolines will be listed in this article. 
Springfree Trampolines are currently the only premium-priced trampolines ($1,000+) on Canadian Tire's website, and they will be listed last as the most expensive trampoline out of the three. 
After reading through this list, you will be all set to make a purchasing decision on whether one of these trampolines at Canadian Tire is worth it for you! 
Wonder what a trampoline will look like in your yard? Use our AR Tool, follow three easy steps from your phone and see how a trampoline looks at your house!  
What Should You Consider When Buying a Canadian Tire Trampoline?   
As you scan through this list, there will be certain things you need to watch for. To get the right trampoline for your family, you must first evaluate what's most important to you in a trampoline. 
We've rounded up seven crucial things to look for when buying a trampoline. Assess these factors and rank them based on what you desire most in a trampoline:  
Trampoline Safety Features - What specific safety features does this trampoline come with?      

Quality - Is this trampoline built with quality materials that ensure its longevity through childhood?    

Durability - Can this trampoline withstand years of jumping and weather conditions without breaking down?    

Warranty - What trampoline parts are covered and how long is the warranty?    

Trampoline Design and Style - Does this trampoline look aesthetically pleasing in your backyard? Can you customize it?    

User Reviews - Does this trampoline have positive online reviews?        

Trampoline Cost - Is this trampoline within your budget and worth the investment?      

Other Important Factors - Trampoline Weight limits, installation, customer service and trampoline accessories.    
Check out the articles below for other content that can help you set your trampoline goals and ensure you get the right trampoline the first time: 
3 Best Canadian Tire Trampolines to Buy This Year  
Now that you know what to look for in a trampoline, let's get to the list, shall we? 
Remember, this list is going from least expensive to most expensive: It is not ranked by quality.   
All photos, costs and reviews are courtesy of Canadian Tire and Walmart. At the time of this writing, all trampolines in this article are available to purchase. However, some trampolines might go out of stock over time or may no longer be carried by Canadian Tire.    
See all of Canadian Tire's Trampolines here.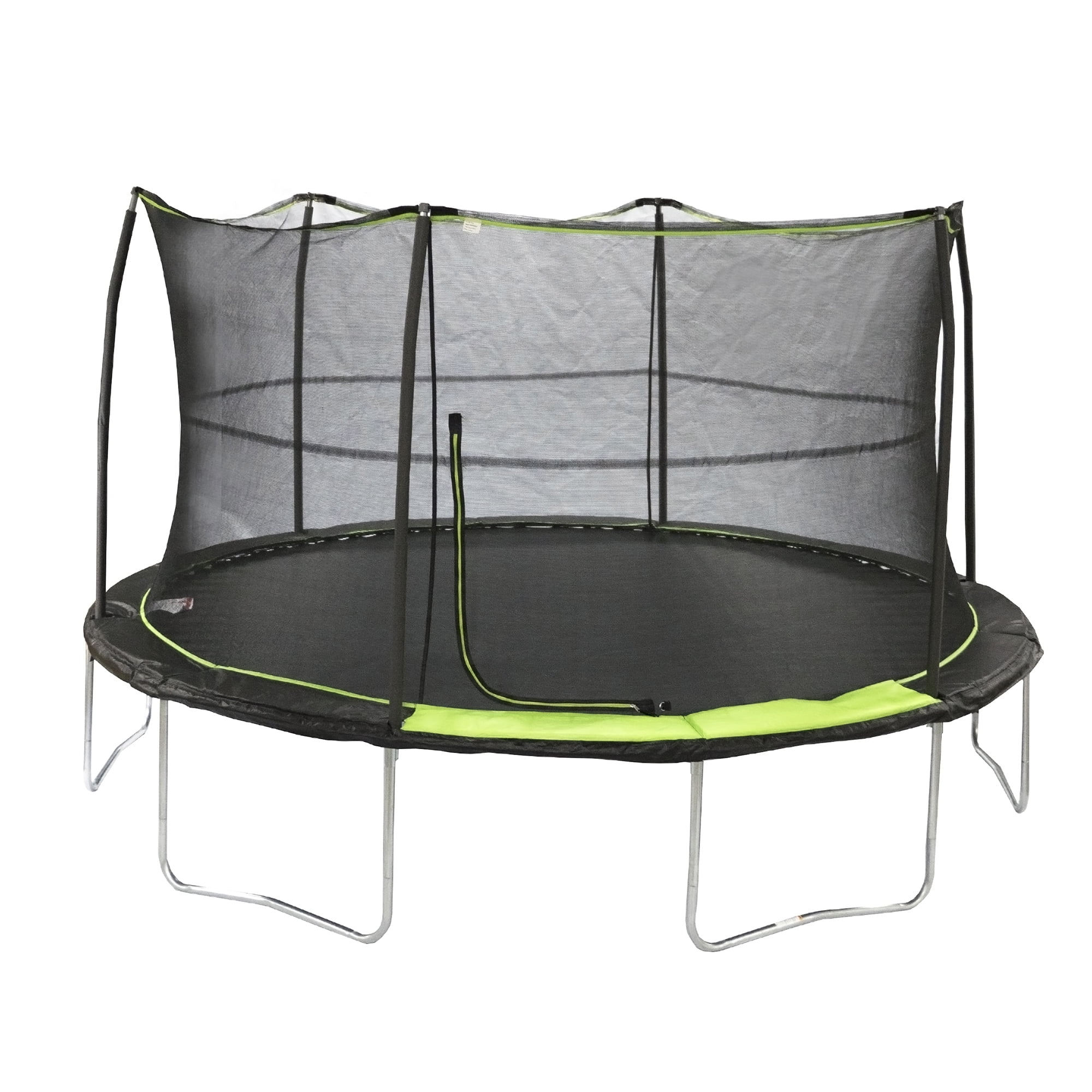 Pros:   
Relatively affordable for a 14 ft trampoline. 

Built with rust-resistant galvanized steel frame.  

250-pound individual weight limit. 

Lime green design on the safety padding gives it some character.  
Cons:   
Safety concerns with the metal static poles and the potential for gaps between the jumping mat and net, which can cause pinching injuries from the springs or increase the chances of falling off the trampoline. 

Made from material that could break down quicker than more high-quality trampolines.  

No warranty is offered.    
The Verdict:  
JumpKing's JumpPOD 14 ft Trampoline has some notable pros, including its affordability relative to its size and its high individual weight limit.  
There are also some downsides, though, notably the safety concerns and lack of warranty. You shouldn't purchase this trampoline if you're expecting it to last for more than 1-3 years.     
Reviews: 4 out of 5 (4 ratings)      
Cost: $499.99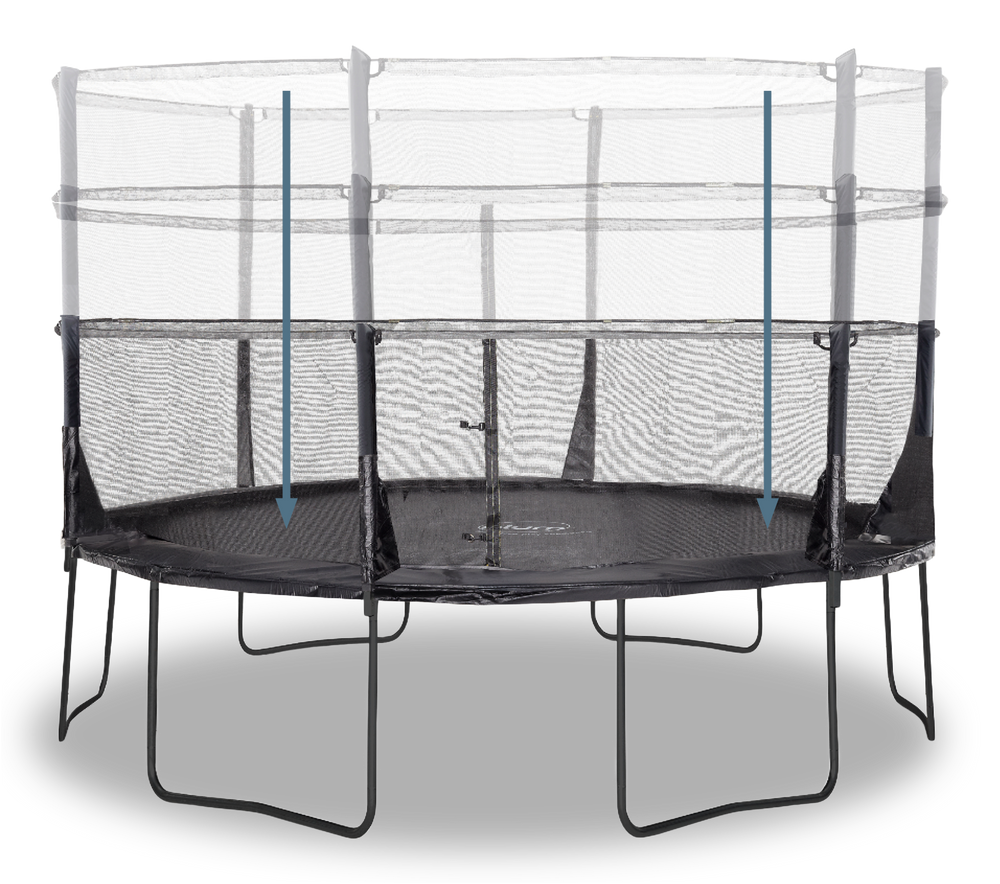 Pros:   
Includes a unique telescopic enclosure net that makes it easy to clip down when storing during bad weather or when not in use.  

Galvanized steel frame that is rust resistant. 

Enclosure helps prevent gaps between the springs and the frame. 

Comes with a Tramp Klamp bracket for added stability.  

Purchase includes a weather cover to protect the net, padding and mat from weather-related damage.  
Cons:   
Metal static poles create the potential for impact injury if padding starts to wear down. 

195-pound individual weight limit is low for a 12 ft trampoline. 

Only 1-year exchange warranty is offered. 
The Verdict:    
Plum's Space Zone II 12 ft Trampoline is a uniquely designed trampoline that offers some solid weather resistance, particularly with the included cover.  
Before buying, though, make sure to consider the low individual weight limit and warranty: The low warranty may indicate that the product won't last long. 
Reviews: 4.3 out of 5 (24 ratings)      
Cost: $849.99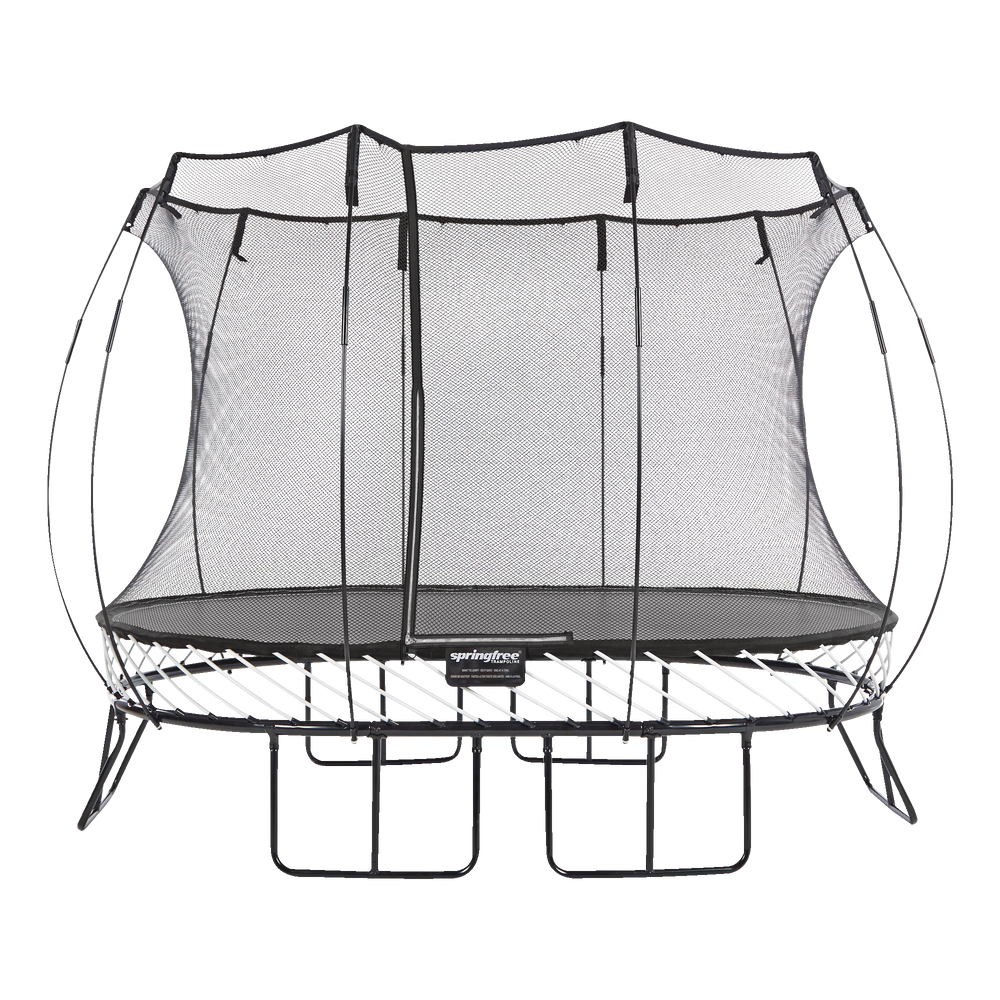 Pros:    
Industry-leading trampoline safety features like the FlexiNet, SoftEdge Mat, hidden frame, enclosure rods and no springs.    

Made from quality materials such as a galvanized steel base with three layers of rust protection, patented composite fiberglass rods for the jumping system and flexible net rods.     

Provides 77 square ft of jumping space despite being 8 ft x 11 ft wide.      

10-year warranty is included for all parts that cover manufacturer defects in material and workmanship.      

Visually pleasing design that adds to a backyard's aesthetic.      
Cons:              
It's a highly priced product.    

Can be difficult to self-install, although professional installation is offered for $249.99 (Check out our Springfree Trampoline Assembly Tips if assembling without professional assistance).     
The Verdict:  
Springfree's Medium Oval Trampoline is a top-of-the-line trampoline in terms of safety and quality while providing plenty of bouncing space for its size. The 10-year warranty is indicative of how long you should expect it to last.  
However, it is a premium-priced trampoline, so its cost may be prohibitive for some. Installation can also be difficult if not professionally completed.  
Reviews: 4.8 out of 5 (79 ratings)     
Cost: $1,799   
Here are some other trampolines from Canadian Tire that could be worth looking into:  
Which Canadian Tire Trampoline Is Right for You?     
The three trampolines on this list were deemed the best in their respective price range based on our expert analysis and user reviews of the product.  
They should give you a good sense of the types of trampolines at Canadian Tire if that's the place you want to buy one.  
Canadian Tire has a few other trampolines you can look at on their website. If you're not sold on a trampoline at Canadian Tire, then our advice would be to look at another retailer's trampolines. Walmart, Amazon and The Home Depot could be other retailers to consider.  
At Springfree Trampoline, we want to make sure you are as informed as possible when it comes to your trampoline purchase.  
If you're still trying to figure out which trampoline to purchase, we have a couple of free, easy-to-use tools that may help you during your research process:  
Tool #1: Augmented Reality (AR) Tool that lets you virtually place a trampoline in your backyard using your smartphone to see how it looks before purchasing.  
Tool #2: Model Selector Tool that automatically generates a couple of recommended trampolines based on your answers to three simple questions.      
Use the tools above or reach out to us to receive honest and professional consultation from our trained trampoline experts--and get the right trampoline the first time!