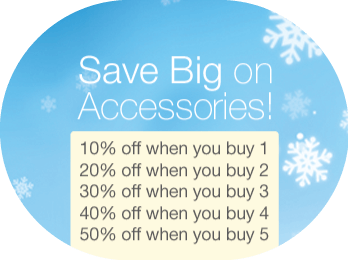 Santa Claus is coming to Springfree! 
Looking for last minute gift ideas? Starting December 3rd, purchase any new Springfree Trampoline and receive a discount on any accessory item. The more accessories you buy, the more you save! 
Order before December 14th to ensure your order arrives before Christmas! Offer expires January 2nd, 2013.
Frequently Asked Questions:  
  1. How does this promotion work?
Purchase any Springfree Trampoline at regular price and each accessory that you purchase will receive a discount. (Example: Purchase one accessory and receive 10% off, purchase two accessories and receive 20% off, etc.). Discount only applies on accessory purchases only. Please visit our trampoline page: http://www.springfreetrampoline.ca/our-trampolines for more information. 
  2. I've just purchased accessories, will I receive the discount? 
This promotion is only valid for purchases made starting Monday, December 3rd, 2012 to Wednesday, January 2nd, 2013. Orders made prior to Monday, December 3rd, 2012 will not receive this promotion. 
  3. When will I receive this order? 
All orders will be fulfilled starting Monday December 3rd, 2012.  Please allow 7-15 business days for delivery.  Orders made after December 14th cannot be guaranteed to arrive by Monday December 24th, 2012. 
  4. Will shipping charges be applied to my order?

Yes, shipping charges will be applied to your order as an additional charge.     
  5. I have questions on this promotion, is there someone that I can call?

Please call our customer service toll-free at 1 (877) JUMPSAFE (1-877-586-7723) or email any questions for this promotion to customerservice@springfree.com.  Please include "Christmas Promotion" in the subject line of your email.  
Terms & Conditions:
  1.Promotion available to Canadian residents only.
  2.Discount will automatically be applied to your order. No promotional code is required.  
  3. This offer cannot be combined with any other promotions or offers.
  4.Shipping costs are not included in this promotion. Additional shipping costs apply.
  5.Not valid on prior purchases. No adjustments will be made on previous purchases.
  6.Not valid for cash or cash equivalent.
  7.Valid only from Monday, December 3rd , 2012 until Wednesday, January 2nd, 2013.
  8.This promotion is only available through online or phone-in orders only.