6 Best Backyard Trampolines to Buy at Walmart (2023) 
Don't have time to sift through pages and pages of Walmart trampolines? Let us help! Here are 6 backyard trampolines that you can buy from Walmart this year.
Walmart reigns as one of the most popular places to buy a trampoline, and for good reason. 
They have a wide selection of trampolines, from under $200 to well over $1,000. If you go to Walmart's website and type in "Trampolines," around 25 pages of content pop up.  
Nobody has time to look through all 25 pages of Walmart's trampolines and properly assess which one to buy. 
But as a decades-long trampoline innovator and manufacturer that lives and breathes trampolines, we did have time to go through each page of Walmart's backyard trampolines.  
The result? We've come up with an honest, fair and impartial list of the best trampolines you can buy from Walmart. 
Focusing on the backyard trampolines (that is what we specialize in and sell at Springfree Trampoline) on Walmart's website, we've highlighted six of them that stood out the most in their respective category (cheap, mid-budget, premium). 
We will be providing two of the best cheap trampolines at Walmart, two mid-budget options and two premium selections to consider as you look to find the best trampoline for your family.  
What Should You Consider When Buying a Walmart Trampoline?  
As you browse through the trampolines on this list, the features below will help narrow down what you need to look for in a trampoline: 
Safety Features – What specific trampoline safety features does this trampoline come with?    

Quality – Is this trampoline built with quality materials that ensure its longevity through childhood?   

Durability- Can this trampoline withstand years of jumping and weather conditions without breaking down?   

Warranty- What parts are included and how long is the warranty?   

Design and Style – Does this trampoline look aesthetically pleasing in your backyard? Can you customize it?    

User Reviews – Does this trampoline have positive online reviews?      

Cost of Trampoline– Is this trampoline within your budget and worth the investment?     

Other Important Factors- Weight capacity, installation, customer service and trampoline accessories.   
The best way to get to your ideal trampoline is to figure out which of these features are most important to you and find the trampoline that matches your desired features the most. You can even rank them if that helps! 
But don't rush the research process and buy a trampoline that you "think" is good enough for you. This can lead to money wasted on a subpar trampoline, or worse, an injury to one of your jumpers.    
Check out our blog on what you need to look for before purchasing a trampoline to learn more about the steps the getting the right trampoline the first time around.  
Best Walmart Trampolines to Buy This Year  
Let's go over how this list was formulated so you understand why the trampolines below were the chosen ones: 
We'll be listing readily recognized pros and cons for each trampoline while adding user reviews and costs from Walmart's website.  

We primarily used our internal "Competitor Assessment" that classifies the notable trampoline brands in the industry to help narrow down this list.  

Just because another Walmart Trampoline wasn't included on this list, doesn't mean it's not a good option for you. We're just offering one expert's perspective. 
In full transparency, one of our Springfree Trampolines will be listed in the "Premium" Category on this list. There are empirical reasons behind its inclusion, which you will read about later on. 
Now that all the caveats are out of the way, let's see some trampolines! 
See all of Walmart's Trampolines here.  
2 Best Cheap Trampolines at Walmart 
We'll start by listing two of the best cheap trampolines at Walmart. We're defining "cheap" as between the price ranges of $150-$350. 
These two trampolines would be a fit for families looking for a short-term trampoline on a budget.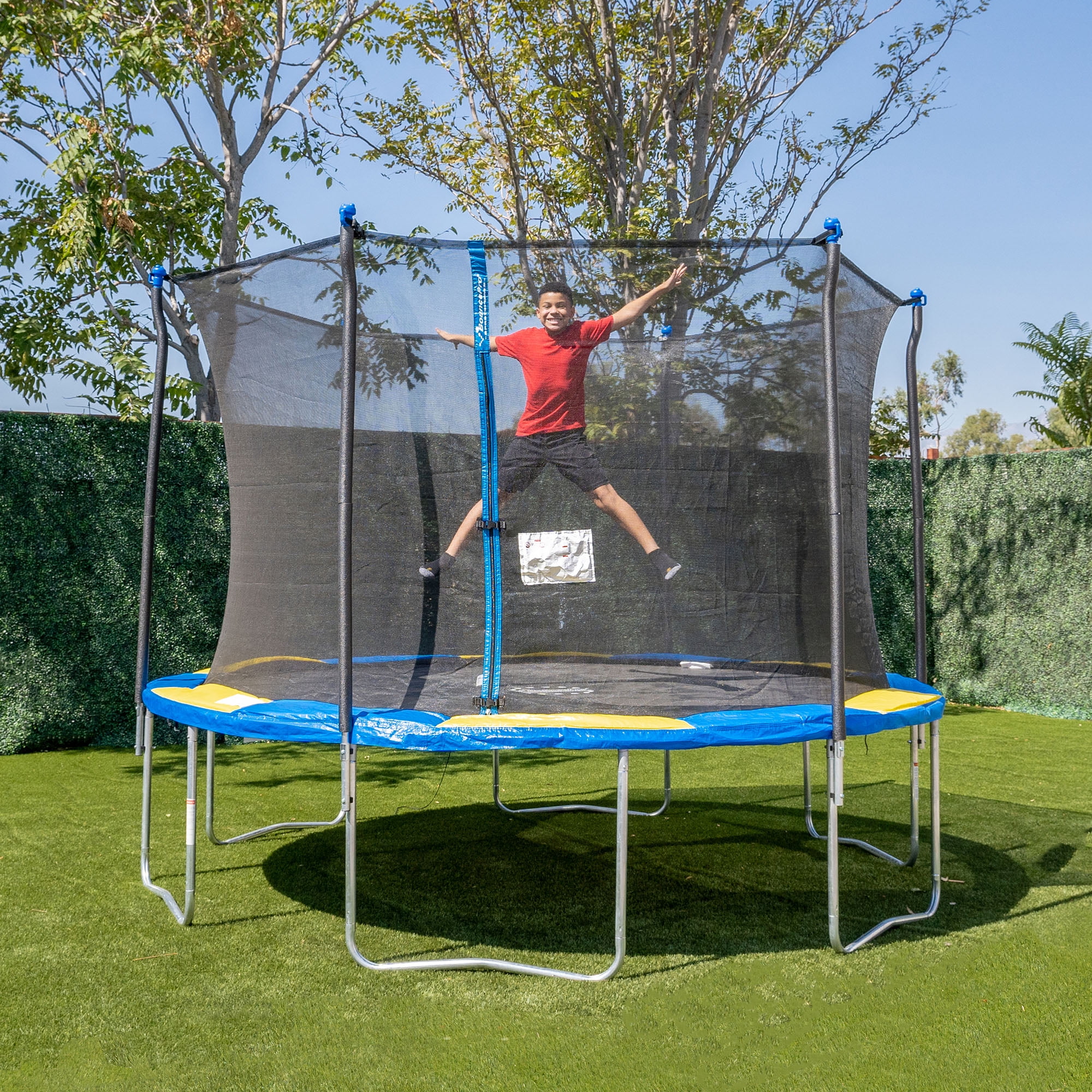 Pros: 
Relatively affordable. 

Comes with a double galvanized steel frame that is strengthened by Double Welded frame plates. 

Spring pad, jump mat and enclosure net are made from UV-resistant material.  

Has a TenCate Permatron jump mat and claims to have high-quality springs that offer a solid bounce.   

220-pound weight capacity.  
Cons:  
Made from inexpensive material that may break down or pose safety hazards if not maintained. The condition of the netting is something to watch closely if purchased.   

Metal static poles can cause injury if the padding starts to deteriorate. 

Overall product is warranted for just one year. The frame (7 years) and mat (3 years) are warranted for longer.  

May not provide enough jumping room for older kids (12+).   
Reviews: 4.3 out of 5 (106 reviews) 
Cost: $179 
Photo courtesy of Walmart.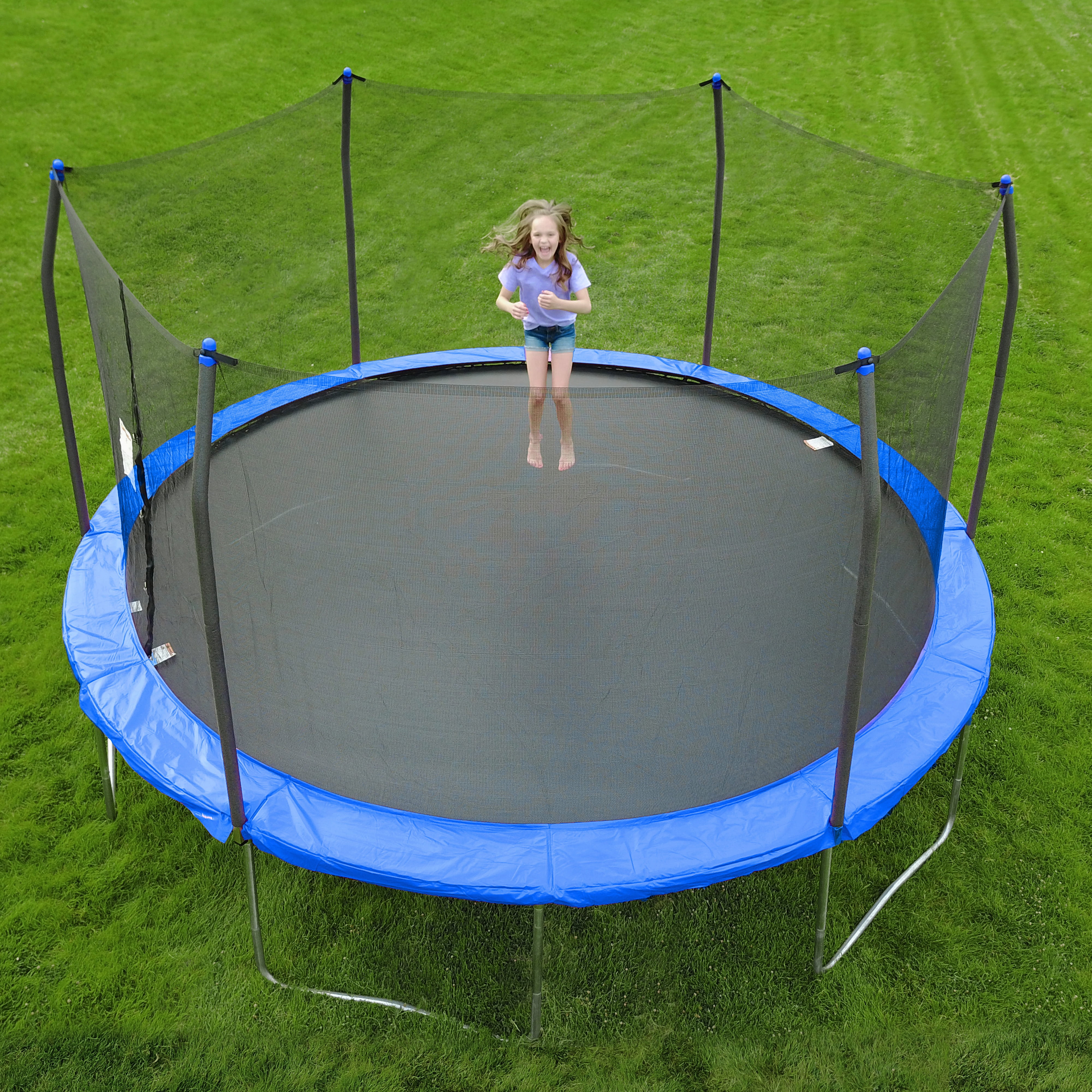 Pros: 
Relatively affordable. 

Provides ample jumping space for the price. 

Includes a no-gap enclosure system, helping to eliminate gaps between the jumping surface and springs.  

Frame is rust-resistant and galvanized, as are the 96 springs.  

UV-resistant spring pad and mat.  

Uses T-joint construction for frame stability. 

275-pound single jumper weight capacity. 
Cons:  
Use of inexpensive material, particularly for the net, portends longevity and safety concerns.  

Low and limited warranty (3 years on the frame, 1 on all other materials) indicates the Trampoline may not last past three years. At the least, replacement parts may need to be frequently purchased for the Trampoline to persist. 

Metal static poles create a safety hazard for wayward jumpers, particularly if the padding wears down.   

The design and style of the trampoline are basic, if not mundane.   
Reviews: 4.5 out of 5 (1,140 reviews)
Cost: $324 
Skywalker's 15 ft Round Trampoline also made our "Top 6 Big Trampolines" List. Check it out if you're in the market for a heavy-duty trampoline! 
Photo courtesy of Walmart. 
2 Best Mid-Budget Trampolines at Walmart 
Now we're moving on to the mid-budget trampolines. These trampolines are in the $350-$750 range and would be a fit for families that want a step up from the cheaper trampolines but don't want to spend the money required for a premium trampoline.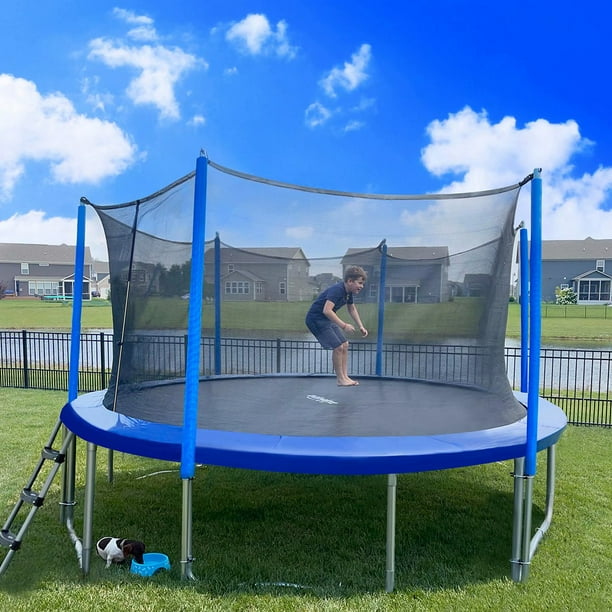 Pros:   
Comes with a patented no-gap design between the mat and springs that guards against spring-related injuries.      

Uses hot-dip galvanization that protects the frame from rusting. 

Has galvanized rust-resistant springs and a UV-protected mat.   

Weight capacity of 425 pounds. 

10-year warranty for the frame. 
Cons:   
Static metal poles could pose a safety hazard for wayward jumpers if the padding starts to wear down.  

Only a 2-year warranty for the trampoline mat, frame pad, safety net and springs. 

The design of the trampoline is relatively basic.  
Reviews: 5 out of 5 (28 reviews)   
Cost: $564.99 
Photo courtesy of Walmart. 
Pros:     
Enclosure nets are made from 100% high-strength polyester with UV protection. 

Includes 42 mm steel tubing for the frame and its metal components undergo a 6-layer rust-proofing process. 

Includes a ladder with purchase.   

10-year warranty on manufactured defects (can purchase a lifetime warranty for $59).   

Comes with a sleek green-and-black design. 
Cons:    
Even though the metal poles are curved, they still are stationary and could cause injury if enough force is applied to the net by the jumper.  

The netting and the mat are two separate entities, which can cause gaps between the mat and net, exposing a potential falling area or spring-related injury. 

198-pound single jumper weight capacity is comparably low for a 12 ft trampoline. 
Reviews: No user reviews on Walmart's website.   
Cost: $629.99 
Photo courtesy of Jumpflex. 
2 Best Premium Trampolines at Walmart  
Now we're on to the premium trampolines. These trampolines cost over $1000 and would be a fit for you if you're looking for the best-of-the-best in terms of safety and quality at Walmart.   
Pros:  
Strongest safety features in the industry, including a springless design, a mat with no hard edges, a net that flexes when jumped into and the use of pliable enclosure rods instead of metal poles. 

Made with a galvanized steel base that includes three layers of rust protection, patented composite fiberglass rods that are 3x the strength of steel and extreme UV protection for the net and mat. 

Provides 79 square ft. of jumping space despite being 10 ft round.    

Frame is positioned to be "hidden" so the jumper cannot make contact with it—another safety-first feature.    

10-year warranty is included for all parts that cover manufacturer defects in material and workmanship.      

Visually pleasing design that adds to a backyard's aesthetic.    
Cons:         
High upfront cost may not be realistic for some. 

Can be difficult to self-install. Check out our Tips for Assembly if assembling without professional assistance.   
Reviews: No user reviews on Walmart's website
Cost: $1,699  
Photo courtesy of Springfree Trampoline. 
Pros:    
Acon's X-Series Springs provide "10% more air," according to Acon. 

Frame, springs and mat are galvanized and made with rust-resistant material.  

Mat and enclosure are UV-protected. 

10-year warranty on the frame and 5-year warranty on the mat and springs.  

Ladder comes standard with purchase. 
Cons:    
The high upfront cost may not be realistic for some.  

Springs are inside the jumping area, which is a major safety concern for pinching injuries if the spring padding starts deteriorating over time.  

Metal poles that hold up the net are linear, which could create an injury risk when jumping into the net.  
Reviews: No user reviews on Walmart's website.   
Cost: $1,249 
Photo courtesy of ACON.     
Which Walmart Trampoline Is Right for You?  
Walmart has several backyard trampolines to choose from, no matter if you're looking for a trampoline for kids, adults or both. That's why it's one of the premier destinations to buy a trampoline from. 
The six trampolines on this list make up some of the notable ones that Walmart sells on their website, based on our internal analysis as an expert in the trampoline industry. 
Remember the factors we discussed in the first section of this article: Safety features, trampoline quality and durability, among others, as they will help guide you toward your ideal trampoline. 
If you didn't deem any of the trampolines in this article to be the one for you, there are plenty of places to search for a trampoline. Retailers like Amazon and The Home Depot, or any of the trampoline brands seen in this article, have trampolines available to browse and buy online.  
Our advice as a long-time trampoline expert? Don't settle for a trampoline. Find the one that is safe, stylish and will be able to provide joyful moments for your family for many years to come. 
If you enjoyed this "Best Walmart Trampolines" List, there's plenty more where that came from! Here are some other expert-led and objective lists to check out as you hunt for your next trampoline: