We Reveal Our Top 6 Big Trampolines for 2023 | Springfree Trampoline
If you're searching for a big trampoline, then look no further. Here's a fair and informative list of the top 6 big trampolines on the market this year!
When you search up "big trampolines" online, you will see just how many of them are out there. 
It can be overwhelming, and even frustrating, to try and figure out which one you want to invest in for your family. 
Since bigger trampolines cost more money, it's a purchase that should not be made casually. It should be a purchase that's completed after you've done your research and are fully confident in your decision.  
If you're looking for an accurate and fair analysis of the best big trampolines you can buy this year, then you have come to the right place.  
We at Springfree Trampoline believe in putting you at the heart of what we do. It's why we, as leading experts and innovators in the trampoline industry, create content built on honest information that you can use to make as informed of a decision as possible for your next trampoline. 
In this article, we have chosen six of the best big trampolines you can buy this year: Two for small budgets, two for medium-sized budgets and two for large budgets. 
In full transparency, we will be including one of our Springfree models as a "Large Budget" option because it is, objectively, the safest and highest-quality big trampoline you can buy.  
These six trampolines will give you a base of options to assess as you look to find the trampoline that provides your family with plenty of laughs and joyful moments for years to come. 
Before buying a big trampoline, you need to make sure it will fit in your yard. Use our free AR Tool from your phone and see exactly what a big trampoline would look like at your house! 
What Should You Consider When Buying a Big Trampoline? 
Before getting to the best big trampolines, let's quickly go over some of the essential factors you need to consider as you read through the list: 
Trampoline Safety Features – What specific trampoline safety features does this trampoline come with?   

Trampoline Quality – Is this trampoline built with quality materials that ensure its longevity through childhood?   

Durability- Can this trampoline last under years of jumping and weather conditions without breaking down?   

Warranty- What trampoline parts are included and how long is the trampoline warranty?  

Design and Style – Does this trampoline look aesthetically pleasing in your backyard? Can you customize the trampoline?  

User Reviews – Does this trampoline have positive online reviews?     

Trampoline Cost – Is this trampoline within your budget and worth the investment?    

Other Important Factors- Weight capacity, installation, customer service and accessories.  
You also must consider the amount of space you have in your backyard before purchasing a big trampoline.  They will take up a lot of space, and if you don't have the necessary room to house the trampoline's size, it could create a safety hazard.  
Check out our blog on what you need to look for before purchasing a trampoline to learn more about how to choose the right big trampoline. 
Best Big Cheap Trampolines  
We'll start by going over the best big cheap trampolines you can buy for those with lower budgets: 
Main Pros: Affordable, no-gap enclosure system, rust-resistant galvanized steel frame.  
Main Cons: Uses inexpensive materials, has safety concerns (metal static poles, poor netting) is not visually appealing and has a short warranty (3-year limited warranty on the frame, 1-year limited on all other materials.)  
Should You Buy It? Skywalker's Round 15 ft Trampoline would be a good option for you if you want a big trampoline and don't want to pay a lot of money for it. However, if you value safety and want a trampoline that will be able to hold up through the seasons, you will likely want to look elsewhere.  
Cost: $341 
Photo courtesy of Skywalker Trampolines. 
Main Pros: Affordability, high single jumper weight capacity, or trampoline weight limit, of 450 pounds and easy to set up for most people.   
Main Cons: Inexpensive design could lead to a short product lifespan, static poles are a safety hazard, and the one-year warranty is comparably low, especially for a bigger trampoline.  
Cost: $429.95 
Should You Buy It? If you want an affordable big trampoline with a high weight capacity that is easy to set up, then Jumpzylla's Model S 14 ft Trampoline is worth looking into. There are some red flags on durability and safety, though, and the one-year limited warranty means you will likely need to pay for replacement parts down the road. 
Photo courtesy of Jumpzylla. 
Best Big Trampolines for Mid-Sized Budgets 
Now we're moving on to the mid-tier trampolines! These models would be best for families with a mid-sized budget: 
Main Pros: High single jumper weight capacity (425 pounds), hot-dipped galvanized structure is a plus for durability and rust resistance and it comes with a 10-year warranty for the frame.  
Main Cons: Although Zupapa has a "no gap" mat, the springs being located inside the net, as well as the static metal poles, are major safety concerns. The other parts of the trampoline beside the frame—the mat, frame pad, safety net and springs—only have a two-year warranty. 
Should You Buy It? Zupapa's 15 ft Trampoline is a quality option for mid-sized budgets, especially those that need a trampoline with a high weight capacity. Its design does create some safety concerns and its limited warranty on commonly replaced parts could mean paying out-of-pocket for replacements in the future.  
Cost: $609.99 
Photo courtesy of Zupapa. 
Main Pros: The enclosure net is made of strong material, its metal components undergo a six-layer rust-proofing process and the trampoline has a a 10-year warranty on manufactured defects (can purchase a lifetime warranty for $59).   
Main Cons: Some safety concerns, such as the chance for gaps between the mat and enclosure if the enclosure starts to pull away from the mat and its static poles. Also, its 198-pound single jumper weight capacity is very low compared to other big trampolines. 
Should You Buy It? Jumpflex's Flex 150 Estate Trampoline is a solid mid-tier option because of its use of strong materials and lifetime warranty for manufacturer defects. However, safety concerns do persist, and its low single-jumper weight capacity may rule it out for some families.  
Cost: $949 
Photo courtesy of Jumpflex. 
Best Big Trampolines for Large Budgets 
We're on to our final section of the "Best Big Trampolines" List. The two trampolines below are for those that are willing to spend big money for a big trampoline: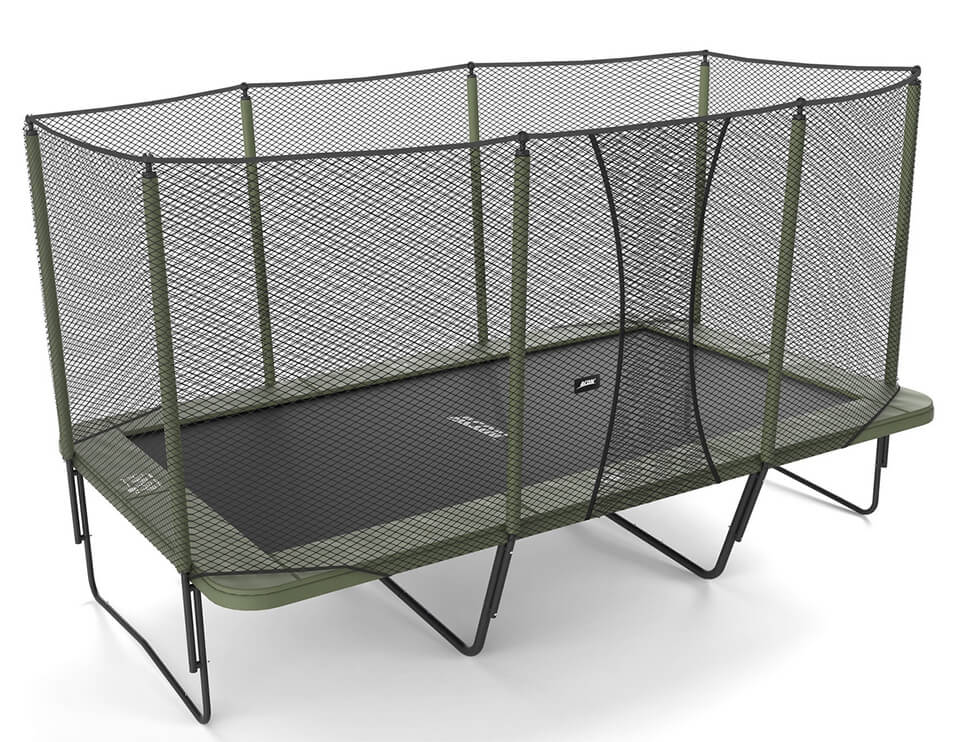 Main Pros: The trampoline's use of Acon's signature X-Springs gives it a solid bounce and it comes with strong durability features, such as a sturdy trampoline frame and UV-treated materials. It also comes with a ladder at purchase. 
Main Cons: Its static, non-flexing, poles create the potential for impact injuries to wayward jumpers, and some of the springs are still located within the netting—a concern for pinching injuries. You also must purchase the "Performance Package ($2,699)" to get an additional set of springs to increase the bounce quality. 
Should You Buy It? Acon's Air 16 ft Sport HD Trampoline is a good high-end option for those that would like a high-end and durable spring trampoline with a solid bounce. For being such an expensive trampoline, though, some concerning safety issues need to be evaluated before purchasing, 
Cost: $2,299 (Offers payment plan) 
Photo courtesy of Acon. 
Main Pros: Comes with industry-leading trampoline safety features (springless design, FlexiNet, hidden frame, SoftEdge Mat and enclosure rods), rigorously tested trampoline quality features, 10-year warranty for manufacturer defects on all parts, come with professional installation and is aesthetically pleasing.  
Main Cons: It is at the highest end of the price point for a trampoline and its 220-pound single jumper weight capacity is lower than some big trampoline models. 
Should You Buy It? If you have the money and you're looking to buy the "best-of-the-best" in safety and quality, then the Springfree Jumbo Oval Trampoline would be worth examining further. Its price point, however, is likely a non-starter for those looking for a big trampoline on a budget. 
Cost: $4,499 
Photo courtesy of Springfree Trampoline. 
Which Big Trampoline Is Right for You? 
Buying a big trampoline is a big investment: Not just in money, but in your family's happiness. 
You've seen six potential trampolines that could be worth investing in depending on your situation and goals. We'll leave it up to you to decide which one meets your specific standards.   
But seeing these six trampolines should give you a good feel for some of the best options at different price points. 
Springfree's Advice: Rank your priorities (safety, quality, design, installation, etc.), consider your budget and find the big trampoline that meets them both. 
If you would like to see other big trampolines, check out the "Best Of" Lists below: 
Want to See What a Big Trampoline Looks Like in Your Yard? 
You likely have an idea of which trampoline you're wanting to invest in. But wouldn't it help to be able to actually the trampoline at your house before you purchase it? 
Our Augmented Reality (AR) Tool will give you an accurate representation of what a big trampoline will look like in your yard.  
Using your smartphone, follow three simple steps and you will be able to visually place a big trampoline to see how it looks before you buy the real one. No app download is required, and you can even snap a photo to use for reference later on! 
If you have any questions about anything regarding your search for a new trampoline, we have experts specifically trained and available to answer any questions you may have: Just reach out to us and one of our team members get back to you shortly!