15 Ideas to Keep Kids Active This Summer with Springfree Trampoline
Trampolines are always a great addition to any backyard. Check out our top picks for keeping your kids active this summer.
Trampolines are always great fun for jumping about and of course exercise. But there are loads of other ways to use your Springfree Trampoline, especially in the summer when the days are long and free. Here's 15 ways to get your family moving this summer!
1. The Balloon Game
Jump with a balloon on the trampoline, but the aim is to not touch it while you jump. To increase the 'level of difficulty', add more balloons.
*Popping a balloon is instant disqualification 
2. Karaoke 
Your Springfree is the stage! Take turns belting out your favorite songs and vote for a winner. Extra points if you make everyone laugh.
3. Memory Game
Take turns doing a safe 'move' on the trampoline like bouncing on your bottom. The next person then has to copy the first person's 'trick' and adds one of their own. Continue with each child doing the tricks before them and adding their own. If someone forgets a trick or gets it out of order, they are out and the game continues until only one child is left! 
(Please note, we don't recommend any flips, somersaults and one jumper at a time.) 
4. Hopscotch
No doubt you've had some fun with chalk on the trampoline. But have you ever drawn a hopscotch grid on the mat to play hopscotch on a trampoline? Give it a go today!
5. Story time
Everybody loves story time and story time on the trampoline just adds a little bit of magic to the experience. Set up the trampoline with comfy pillows, blankets, snacks and a most excellent selection of books for reading. Such a delightful and relaxing way to pass the afternoon.
6. Build a Hideout
Make a club house or hideout with sheets and blankets. Once you've created the ultimate space, get your snacks and games for a perfect way to spend your day.

 @dawnpdarnell
7. Movie Nights 
Movie nights are a great option for those warm summer nights. Get started by building a comfortable pillow-filled area with a few blankets or sleeping bags on the trampoline. Get a large laptop, or projector and use a white sheet as the screen, then the whole family can settle in with some popcorn. 
8. Up Your Picnic
In summer, you have little creepy crawlies on the ground to contend with so this is where the trampoline can be your saviour for a fun summer picnic. Set up a picnic on the trampoline, lay out a spread of delicious food and enjoy some family time in the great outdoors. We do recommend you keep sharp cutlery away from the trampoline and it's advisable that there is no jumping around the food.
9. Mid-Air Photography
Your trampoline is a great photography prop and your kids love to jump. So while they're jumping and practicing different kung-fu or superhero moves, have your phone or camera at the ready. They'll love looking at how high they can jump and seeing their hair going crazy.
10. Outdoor Ball Pit
We've already established that a Springfree Trampoline is fun on all on its own. Add some balloons or balls and the fun goes to a new level. There are loads of games to play, such as a type of dodgeball or seeing if you can jump hard enough to shoot the balls out of the trampoline enclosure.
11. Trampoline Disco 
Get out your kids' favourite tunes, and host a disco for them and their friends on your Springfree Trampoline. Put some decorations up on the trampoline with lights and let the kids dress up in their favourite dancing outfits. Not only will they have the best time, but they'll work off a fair bit of energy with all their dance moves.
12. Performance Stage 
Do you have a budding performer in the family desperate for a stage to showcase their skills? Or perhaps you want an activity the whole family can get on board with. Use the trampoline surface as you would a drum, and create a beat to get the whole family ready to play along. Someone can be a singer, and other members of the family can use a guitar or handmade instruments to enjoy a fun afternoon jam.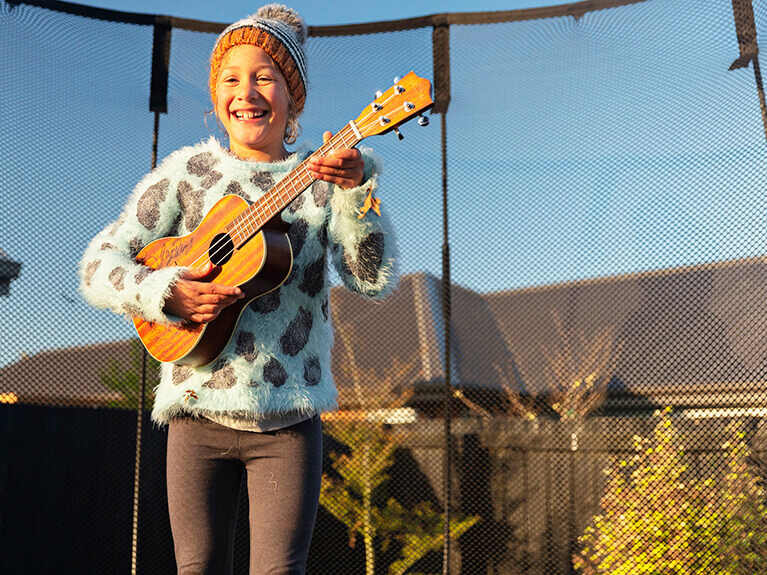 13. Making Shapes Out of Clouds 
This is always a fun pastime for the kids and the trampoline surface is the perfect place to recline and watch the clouds pass by with your kids. Make shapes out of what you see, and encourage your children to be creative.
14. Glow In the Dark Jumping 
Deck the kids out in glow necklaces and bracelets, and put some music on so they can dance away after dark!
15. Drawing Board
Every child has an inner artist within just desperate to get out so arm your little Picasso with some chalk to express themselves on the trampoline. The chalk shows up so vibrantly on the trampoline and it is much easier for little hands to make marks on the smooth surface. Even better the chalk will turn to dust and bounce around when your kids start jumping, which is part of the appeal for my kids. Or, just hose it off or wait for the rain to give you a blank canvas again. 
Try out these activities! If you post them on your socials, be sure to tag us!
Other Articles You May Enjoy 
13 Things No One Tells You About Trampolines
10 Tips for Balancing Screen Time & Backyard Time with the Kids
15 Tips for Parents and Kids to Take that much Needed Mental Break