What Is the Best 12 Ft Trampoline? (2023)
Looking for the best 12 ft trampoline? Our article lists the five top options on the market, considering factors like durability, safety, and bounce quality.
A 12 ft trampoline is one of the most common trampoline sizes you will find in backyards across the globe. 
Many trampoline brands sell 12 ft trampolines, and it can be overwhelming to look through the various models and discern the differences between them. 
You want to buy the right trampoline that will serve your family for the long haul. Choosing the wrong trampoline can result in wasted money, or even increased injury risk for your child. 
We want to eliminate the chances of a regretful purchase. At Springfree Trampoline, we've made a name for ourselves as a springless trampoline innovator and have accrued decades of experience as a trampoline manufacturer.  
That experience is what we will lean on to formulate a list of the best 12 ft trampolines so you can confidently decide which one is right for you.  You won't know until you accurately inform yourself of your options, and if knowledge is what you seek, then you've come to the right place. 
Before we go into the list, though, we have a full transparency policy with our content. So,  we want to be open about how we created our "Best 12 ft Trampolines" List: 
The order of this list is based on pricing; we're going from least expensive to most expensive so you can see the best options on the market at each price point.   

One of our Springfree Trampolines will be included on this list. There are logical reasons for this, all of which we will go over later.    

Just because we didn't list another brand's 12 ft trampoline doesn't mean it's not a quality trampoline. However, these five stood out from the competition.    
Want to see what a 12 ft trampoline looks like in your yard? Use our AR Tool, follow three easy steps from your phone and see what your next trampoline could look like at your house!   
What Should You Consider When Buying a 12 ft Trampoline?      
There are certain things you need to look for when buying a 12 ft trampoline. 
Everybody has preferences: You might value the safest trampoline, while another consumer might prefer something that's "good enough" and has a cheaper price point. 
Whatever you decide to be your main priorities for a trampoline, the factors below are some of the key ones you need to consider before purchasing: 
Safety Features – What specific safety features does this trampoline come with?  

Quality – Is this trampoline built with quality materials that ensure its longevity through childhood? 

Durability- Can this trampoline withstand years of jumping and weather conditions without breaking down?  

Warranty- What parts are included and how long is the warranty? 

Design and Style – Does this trampoline look aesthetically pleasing in your backyard? Can you customize it? 

User Reviews – Does this trampoline have positive online reviews?    

Cost of the Trampoline – Is this trampoline within your budget and worth the investment?   

Other Important Factors- Weight capacity, installation, customer service and accessories. 
Check out our blog on what you need to look for before purchasing a trampoline to learn more about how to get the right 12 ft trampoline for your family.        
Top 12 Ft Trampolines to Buy in 2023 
This list will provide pros and cons to consider, the costs of the trampolines and a quick summary of who would be a good fit for each trampoline.
To avoid repetitiveness on the list, we want to go over a universal con that all 12 ft (or bigger) trampolines will share. A trampoline that is 12 ft or larger may not be suitable for small and narrow backyards. 
Before purchasing a trampoline, make sure to measure your yard to see if the trampoline's size will fit. Beyond the trampoline's dimensions, we recommend 3-5 ft of clearance space around the trampoline for safety precautions. 
With all of that out of the way, let's get the top 12 ft trampolines you can purchase this year. Remember, this List is ranked from least expensive to most expensive!     
Pros:    
Much more affordable compared to other 12 ft trampolines.  

Comes embedded with Skywalker's patented no-gap enclosure net, which helps protect against pinching injuries from the springs.  

Relatively easy to assemble.     

Positive user reviews.    
Cons:   
Uses inexpensive material for the enclosure net, which can cause a falling injury and/or the need to replace the net.

Metal static poles create the risk for an impact injury to wayward jumpers.

Comparably low single jumper weight capacity of 200 pounds.    

Basic design.  

3-year limited warranty on the frame and a 1-year limited warranty on all other materials.    
Cost: $299 
Who Would Be a Fit for Skywalker's 12 ft Trampoline?  
If you're looking for the best affordable option, Skywalker's 12 ft Trampoline would be the trampoline to look into. However, the low weight capacity, inexpensive material and mundane design of the Trampoline should be considered before purchasing. 
Photo courtesy of Skywalker.     
Pros:    
Enclosure net is made from 100% high-strength polyester and is woven together using an Endless Weave knot-free system.

All metal components are coated inside and out with strong protective zinc, which helps protect against rust.

Sleek green-and-black design.

Offers a 10-year warranty on manufactured defects (can purchase a lifetime warranty for $59).

Comes with a free ladder   

Very positive user reviews  
Cons:   
198-pound single jumper weight capacity is comparably low.  

The netting and the mat are two separate entities, which can cause gaps between the mat and net, exposing a falling injury area. 

Even though the metal poles are curved, they still are static and could cause injury if enough force is applied to the net by the jumper. 
Cost: $649   
Who Would Be a Fit for JumpFlex's Flex120 Urban 12 ft Trampoline?  
JumpFlex's Flex120 is a good option for those with a mid-sized budget due to its enclosure netting, 10-year warranty and sleek design. However, it does have a low single jumper weight capacity and there are a couple of safety concerns that should be considered before purchasing.  
Photo courtesy of Jumpflex.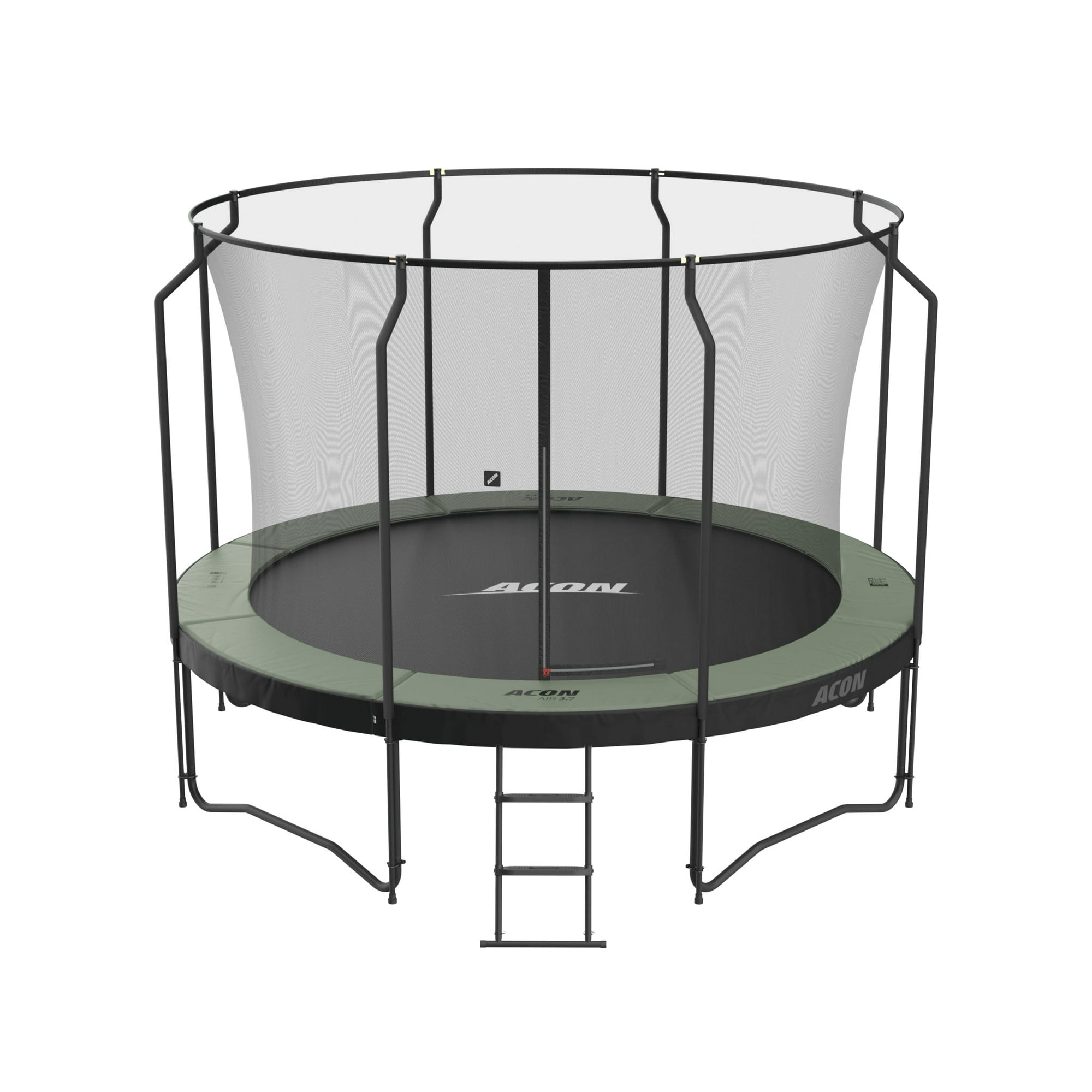 Pros:   
Acon's X-Series Springs, which are 8.5 inches (large for springs), ostensibly provide a solid bounce.  

Includes a galvanized steel frame and UV-treated padding for durability. 

10-year warranty on the frame and 5-year warranty on the mat. 

Ladder comes standard with purchase. 

Positive user reviews.
Cons:   
Metal poles that hold up the net are linear, which could create an injury risk when jumping into the net. 

Springs are inside the jumping area, which creates a pinch point concern if the spring padding starts deteriorating over time.  

Have to pay for the "Premium" version to get the premium netting. 
**(Acon did not list a specific single jumper weight capacity) 
Cost: $999 (Acon) 
Who Would Be a Fit for ACON's Air 12 ft Trampoline?  
ACON's Air 12 ft Trampoline contains a high-quality bounce and would be a good fit for budgets around the $1,000 range. There are some major safety concerns, though, like the springs being located inside the jumping area, that need to be considered. 
Photo courtesy of Walmart.        
Pros: 
Equipped with a Triple-Fail-Safe safety enclosure that includes a 100% secure overlapping doorway.

Contains an intrepid-all-weather frame and a UV-protected mat.   

Lifetime warranty for the steel frame and poles and a 10-year warranty for the mat and enclosure net. 

240-pound single jumper weight capacity 

Can add a second layer of springs (PowerBounce-$200) to boost your bounce performance.   
Cons:   
Requires a budget of around $2,000. 

Springs are located inside the enclosure net—creating a potential pinching hazard if the spring padding deteriorates.  

Steel poles are linear, which can create the potential for injury if the padding starts to wear down.  
**(Not enough user reviews to list as a pro or con) 
Cost: $1,849 
Who Would Be a Fit for JumpSport's AlleyOOP 12 ft Trampoline?  
JumpSport's AlleyOOP can provide an exceptional bounce and has some prominent durability features to maintain its longevity. However, it's an expensive trampoline that comes up short in a couple of key safety areas—namely the springs being located in the mat and the metal static poles.  
Photo courtesy of Amazon.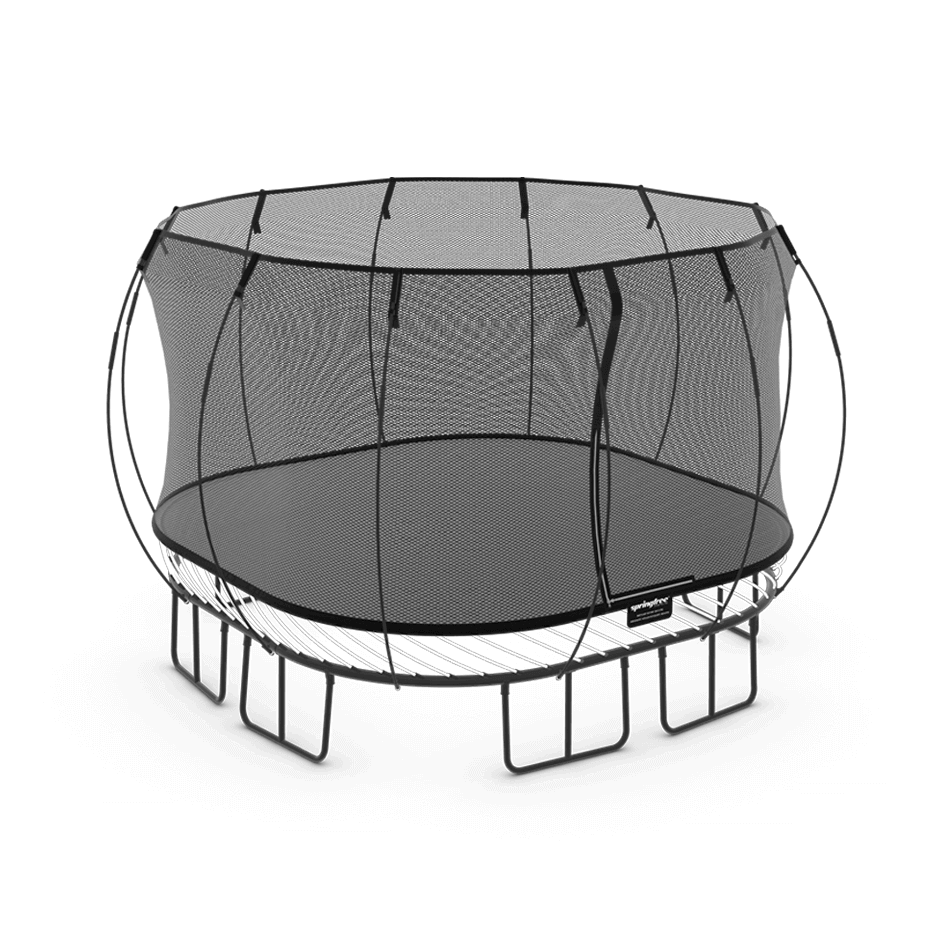 Pros: 
Industry-leading safety features, such as a springless design, a net that flexes when jumped into, a mat with no hard edges and the use of enclosure rods instead of metal trampoline poles. 

Made from quality materials such as a galvanized steel base with three layers of rust protection and patented composite fiberglass rods for the jumping system that are 3x stronger than steel.

Provides 13 ft of jumping space even though it is 11 ft wide.  

Frame is positioned to be "hidden" so the jumper cannot make contact with it.     

10-year warranty is included for all parts that cover manufacturer defects in material and workmanship.   

Can customize the Trampoline and choose from seven different colours. 

Visually pleasing design that adds to a backyard's aesthetic.   

Positive user reviews.      
Cons:        
Premium price may not be justifiable for some budgets.    

Can be difficult to self-install, although professional installation is offered for $399 (Check out our Tips for Assembly if assembling without professional assistance).     
Cost: $2,299 (Springfree)      
Who Would Be a Fit for Springfree's Large Square Trampoline?  
Springfree's Large Square Trampoline Model has features that make it the safest, most quality trampoline on the market that can last up to 10+ years. However, its high price point and sometimes complicated installation are factors to consider before purchasing. 
5 Common Questions About 12 ft Trampolines   
Now that you've seen the list of the best 12 ft trampolines, we're going to answer a few of the most common questions about trampolines of this size: 
How Much Weight Can a 12 ft Trampoline Hold? 
This depends on the single jumper weight capacity, or trampoline weight limit, recommended by the manufacturer of the trampoline. On this list, the 12 ft trampolines could hold a single jumper weight of 198-240 pounds, and that is a good range to use as a reference. 
What Age Is a 12 ft Trampoline for? 
A good age range for a 12 ft trampoline would be 12-16, although this can vary depending on the jumpers' size. 
Can Adults Jump on a 12 ft Trampoline? 
Absolutely! But make sure to note the weight capacity of the trampoline you're using before jumping. 
Is There a Big Difference Between a 12 ft and 14 ft Trampoline? 
14 ft trampolines are wider, can hold more weight and have a larger jumping surface than a 12 ft trampoline, so there is a rather substantial difference between 12 ft and 14 ft trampolines. 
Is a 12 ft Trampoline Big Enough for 3 Kids? 
From a weight standpoint, a 12 ft trampoline is likely big enough to hold 3 or more kids, but you run the risk of injury when multiple jumpers are using the trampoline at the same time. We recommend a "One-Jumper-at-a-Time Rule."    
Which 12 ft Trampoline Is Right for You?   
The 12 ft trampolines on this list stood out for a variety of reasons and each one has something unique to offer. 
They also all have some cons to consider before purchasing. Our advice is to set your goals first: What's the most important thing to you when buying a trampoline?  
Use your goals and budget to lead you to your ideal trampoline. And don't make a rash decision; make sure to evaluate your options before opening your wallet.     
We make it a company-wide priority at Springfree Trampoline to provide you with the information and tools necessary to make your dream trampoline become a reality.  
If you want to see exactly how a 12 ft trampoline fits into your backyard, use your phone to access our Augmented Reality (AR) Tool. With three easy steps, you can accurately envision what a 12 ft trampoline would look like at your house.      
And if you have any questions as you research for your next trampoline, reach out to us to receive honest and timely professional assistance from one of our trampoline experts.