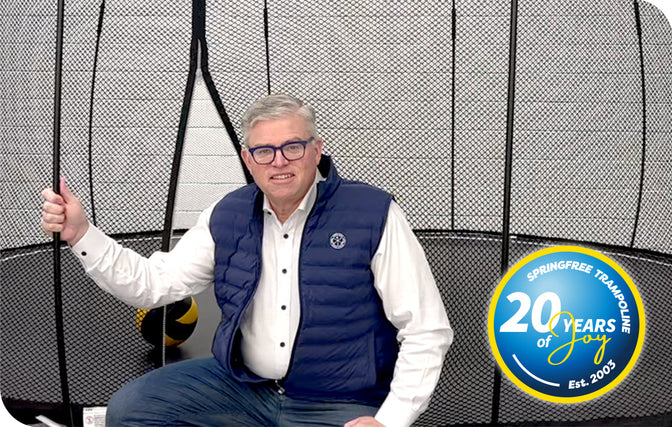 Jump into 20 Years of Joy with Springfree!
As we celebrate 20 years of safe outdoor play, our Chief Bouncing Officer, Steve Holmes, talks about the evolution of the Springfree Trampoline and how Dr. Keith Alexander wanted to bring a safer trampoline to families and backyards everywhere.
JOIN THE PARTY
20 Years Of Countless Smiles
Since 2003, Springfree has delivered the safest trampoline the world has known. Our greatest wish is for all families to have the opportunity to safely create countless memories, countless giggles and countless smiles.
Are you part of the Springfree Family? Share your special moments with us using #springfree20 for a chance to be featured on our social media.
JOIN THE FAMILY
9 sizes, 3 shapes
Springfree offers trampolines in square, oval and round shapes across a range of sizes to suit all Canadian families and backyards. Whether in Vancouver, Calgary, Toronto, Montreal or the Maritimes - and many other regions of Canada, there is a Springfree Trampoline to suit everyone.
Large Oval Trampoline
Jumbo Square Trampoline
Medium Oval Trampoline
Large Square Trampoline
Medium Round Trampoline
Compact Oval Trampoline
Compact Round Trampoline
Mini Round Trampoline
Jumbo Oval Trampoline