Trampoline Age Guidelines: When Can Your Kids Jump?
As a parent, you want your child to jump safely. Read now to learn about trampoline age limit, the best trampoline sizes by age group and expert safety tips!
As a parent, you want your child to have fun when it's time to play. 
Trampolines are one of the most popular ways for children to experience joy while burning off some of that adolescent energy. But you also want to make sure your child is safe while jumping. 
That is why it's vital to understand the guidelines around the appropriate age for a trampoline. Not only do you need to know when your child can safely jump but also the size of trampoline you need to buy to ensure their safety. 
That is what we will be using our decades of experience as a trampoline innovator (created the springless trampoline) and manufacturer to bring you today. 
You will learn about the appropriate age for a trampoline, the trampoline sizes you need to look for by age group and some expert-led trampoline age safety tips. Let's jump in, shall we? 
Is There a Trampoline Age Limit? 
Before getting into anything else, we must address this fundamental question: What age can a child jump on a trampoline? 
According to the American Academy of Pediatrics, no child under the age of six years old should be jumping on a backyard trampoline. This is also spelled out by the American Society of Testing and Materials' (ASTM) trampoline standards.  
The risk of injury is increased for toddlers and children under six years old primarily due to the still undeveloped bones of young children. This makes young children more prone to trampoline injuries, like sprains and fractures. 
If you want a trampoline for a child under the age of six, an indoor trampoline, or mini trampoline/toddler trampoline, would be your only choice. However, you can also consider different sporting equipment altogether, like tumbling mats or tunnels. 
Example of an indoor trampoline, courtesy of Zupapa: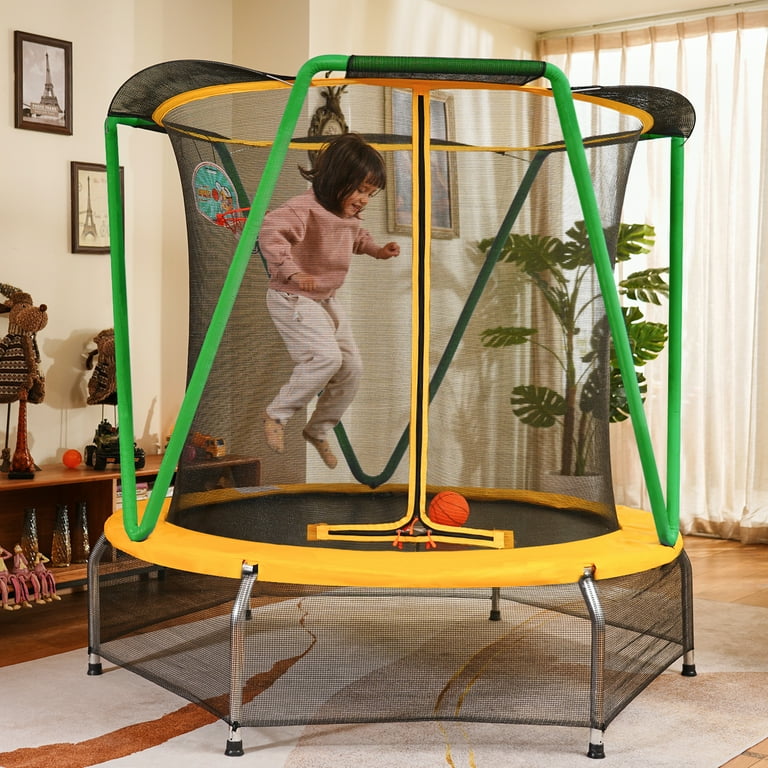 3 Trampoline Age Groups  
Now that we've established that the age limit on trampolines is six years old, let's talk about the size of trampoline you need to buy for your child.  
Using the following age ranges, young children (6-10), preteens and teenagers (11-17) and adults (18+), we will list which trampoline sizes fit within these specific age groups.  
Young Children (6-10) 
For children ages 6-10, you're going to be looking at small/medium-sized trampolines.  
These will likely be trampolines ranging from 6 ft-12 ft in diameter. There are multiple factors to consider when choosing a trampoline for a child in this trampoline age bracket, including: 
Size of your backyard.  

Current size of your child. 

Future growth expected from your child. 

Buying a trampoline for the short or long term. 

Amount of jumping space desired. 
Let's talk about that third and fourth point a little further: One mistake many people make when buying a trampoline is they buy for the now instead of buying for the future.  
If you want a trampoline to last throughout your child's growth period, then you must consider buying a big trampoline first – so you don't have to go back in the market for another trampoline when your child outgrows the small trampoline. 
Preteens and Teenagers (11-17) 
The point about buying for the future is pronounced for the 11–17-year-old range because of the physical growth that occurs during this age bracket. 
With the preteen/teenage age group, you're going to be looking at the big trampolines, especially if you're looking for a trampoline to last throughout your child's teenage years.  
You will want to look for a 12 ft trampoline or above for preteens and older teenagers will be better served with a 14 ft-16 ft trampoline.  
Kids in this age range might be more likely to use the trampoline for athletic purposes than simply jumping for joy.  
If your child is in gymnastics, for example, you will want a trampoline that can safely accommodate your child's size while maximizing their jumping space. Let's discuss that point in more detail:  
Trampoline Size vs. Jumping Space 
When discussing trampoline sizes, manufacturers typically don't list the amount of jumping space, instead just stating its frame-to-frame dimensions. 
On spring-based trampolines, this is a problem, because the springs can take up to 2 ft of jumping space. For example, a 14 ft spring-based trampoline will only have around 12 ft of jumping room because of the springs.  
Notice in the picture below how the springs and spring padding take up around 2 ft of room on a 10 ft round trampoline (photo courtesy of Amazon):  
On our Springfree Trampolines, this is not an issue, because the use of composite rods underneath the trampoline eliminates the need for springs—maximizing the amount of jumping space. Springless trampolines = more jumping room (on similarly-sized trampolines). 
But on many trampolines, many people are misled by the amount of jumping space they have because they assume it equates to the frame-to-frame size.  
If jumping space is important to you, MAKE SURE you understand that a spring-based trampoline will have LESS jumping space than its size!  
Adults (18+) 
Unsurprisingly, adults that desire a trampoline are also going to need to look at the bigger trampoline sizes. For adults, a 14ft trampoline or above will be the way to go.  
The points discussed in both the young children and preteen/teenage age ranges still apply when buying a trampoline for adults: You need to consider your size, the room in your backyard, jumping space, intended use, etc. 
In general, adults will use a backyard trampoline to get a good workout in, which means jumping space is key. Also essential is the trampoline's weight limit, or how much individual weight a trampoline can hold.  
Most adults that use backyard trampolines also have kids that use it too. If you're buying a trampoline for your children, and you want to use it too, buying a big enough size is even more prominent! 
If you are an adult with no children but want a trampoline for exercise, a rebounder or mini-trampoline might be a better choice – rebounders take up far less room. 
10 Trampoline Age Safety Tips 
There's a lot to consider when it comes to buying a backyard trampoline for children (or adults) in specific trampoline age brackets. Let's summarize some must-follow trampoline age safety tips so your jumpers are safe no matter how old they are:  
Do NOT jump on a backyard trampoline before turning six years old.   

Place your trampoline in a safe spot with 3-5 ft of clearance space in your backyard. 

Follow a "One-Jumper at a Time" Rule – no matter what age you are!  

Supervise young children from 6-12 years old. 

No flips or roughhousing.   

Jump in the center of the trampoline – it is the safest part. 

Purchase a trampoline ladder for easier entry/exit.  

Don't jump on a trampoline if you exceed the trampoline's weight limit.  

When in doubt, choose the bigger trampoline size.  

Buy a high-quality and safe trampoline the first time.  
Following basic trampoline safety rules can significantly mitigate the chances of incurring a trampoline injury!  
Which Trampoline Brand Is Right for You? 
As you can see, there are a lot of factors that play into buying a safe trampoline for your child. 
You're not just buying a trampoline for the current age of your child, but also for the future growth expected: The little ones grow up fast – make sure to buy for the future if you want a trampoline to last throughout their childhood! 
Speaking of making a trampoline last, another component that affects a trampoline's longevity is the quality for which it's made. 
Just searching "trampoline" in a search engine will yield countless results and it can be time-consuming and difficult to dissect which trampoline is better than the other. 
Luckily, we at Springfree Trampoline have the expert insight and honesty-first mindset to point you in the right direction.   
Each brand is unique in the trampolines they offer, and the unbiased List linked below will have something for everyone, whether you're looking for the safest trampoline, the most affordable trampoline or the one with the highest bounce! 
Check it out and get yourself the right trampoline the first time: Top 5 Best Trampoline Brands (2023) | Expert Analysis