Rectangle vs. Round Trampoline | Differences + Costs
How do rectangle and round trampolines differ? See key factors such as usability, space and safety features and more to help you make the best decision for your backyard!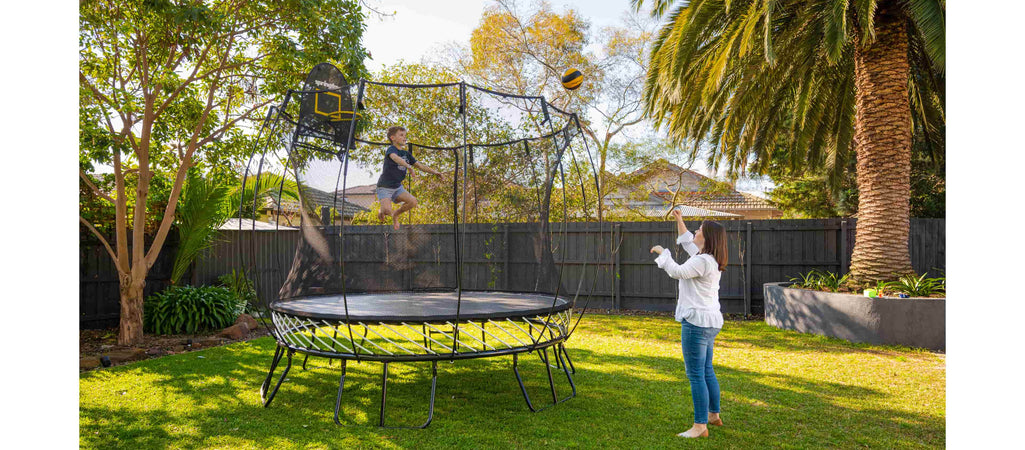 One of the big questions you need to answer before buying a trampoline is: What type of shape do you want for your backyard? 
Two of the most common trampoline shapes are rectangle and round. What are the differences between the two? 
The answer to this question is actually more important than you may think. In fact, the answer to "Rectangle or Round?" could be the difference between a satisfied purchase or an underwhelming one. 
We're going to use our expertise as a decades-long springless trampoline innovator and manufacturer to assess the key distinctive factors regarding rectangle and round trampolines.  
Specifically, they're six notable differences between the two trampoline shapes that need your attention. We will go over all of them in detail before summing up which trampoline shape is best for your backyard. 
6 Differences Between Rectangle and Round Trampolines 
Here are six fundamental differences that you need to know about rectangle and round trampolines: 
Usability 
The first difference between rectangular and round trampolines is the jumpers they are intended to serve.  
Round trampolines, which are the most commonly purchased trampolines, are built for users that mainly want to use the trampoline for recreational jumping. 
The circular shape of round trampolines is more conducive for beginner jumpers or those that just want to have fun while jumping. 
Rectangle trampolines, on the other hand, are built more for jumpers that need more jumping space and want to use the trampoline for athletic purposes.  
A rectangular trampoline compared to a round trampoline with a similar diameter will have more space to jump, and depending on the mat weave, could provide a higher overall bounce (although this also depends on the size of the jumper).  
This means that a rectangle trampoline could be more of an ideal fit for aspiring gymnasts or for teenagers/adults that want to get a good workout in – although you can also opt for a rectangle trampoline if you simply like the shape and want more jumping room. 
A round trampoline, courtesy of Springfree Trampoline: 
Backyard Space Maximization  
Rectangle and round trampolines also differ in that they are constructed to fit in different-sized yards. 
Because of the shape of a round trampoline, you may have to place it in the center of your yard. In contrast, rectangular trampolines can fit more smoothly into longer and narrower backyards.   
Even though they provide more jumping room, the rectangular shape allows the trampoline to fit more neatly into the corner of your backyard than a round trampoline. 
Trampoline Safety 
Another foundational difference between rectangle and round trampolines is the safety of the two.  
A trampoline's safety depends on a lot of things, including the type of trampoline you buy, the quality for which the trampoline is made, the area where it is placed, the ground rules established (like one jumper at a time), etc.  
But the shape of the trampoline also factors into the trampoline's safety. Round trampolines typically provide a lighter bounce and because of their circular shape, they are better at drawing a jumper back to the center of the mat---which is the safest part of the trampoline.  
It's why many parents in the market for a trampoline to be used by their young child will often choose a round-shaped trampoline. 
Rectangle trampolines have more jumping space and potentially a higher jump height. If you're not an experienced jumper, your chances of injury could increase due to the propensity for higher jumping on rectangle trampolines. 
This rule only applies to single jumpers, however. If you allow multiple jumpers at a time, the rectangle trampoline is safer because there is more distance between jumpers. Since round trampolines draw jumpers to the middle, there is more of a chance of collision with multiple jumpers. 
*Springfree always recommends one jumper at a time for optimal safety! 
A Skywalker Rectangle Trampoline, courtesy of BJ's Wholesale Club: 
Usable Jumping Space 
We touched on the greater amount of jumping space that rectangular trampolines have previously, but it reigns as one of the major differentiators between rectangular and round trampolines.  
If you are looking to maximize the jumping surface within a given diameter, then a rectangular-shaped trampoline is likely a better fit.  
There are big round trampolines, such as Skywalker's 15 ft Round Trampoline or ACON's Air 15 ft Trampoline, but because of the width of rectangular trampolines, the amount of jumping space is usually greater than round ones.  
Longevity  
Another difference to discuss between round and rectangle trampolines is their longevity. Any spring-based trampoline that is 12 ft or smaller may become too small for your children if they haven't yet hit their growth spurt. 
With rectangle trampolines, since they are wider, you don't have to worry as much about your child outgrowing the trampoline's size. 
This brings up a crucial point as to what to look for when buying a trampoline: Purchase for the future when choosing a trampoline for your children – that way you won't have to go back in the market for a trampoline when they start growing! 
Historical Relevance
Round trampolines are the most common type of trampoline shape and are likely the shape of trampoline you would've grown up with as a child.  
However, rectangle trampolines and other shapes (like square and oval) are relatively newer—so there might be somewhat of a mental hurdle to overcome with the contemporary trampoline shapes.  
Which Trampoline Shape Is Right for You? 
Now that you've seen the differences between round and rectangle trampolines, which shape trampoline is best for you?  
As far as round and rectangle trampolines go, here is a quick summary of who would be a fit for each shape: 
Round trampolines are a fit for you if…You have younger children and want a trampoline shape built more for recreational jumping.  

Rectangle trampolines are a fit for you if…You're a jumper that is looking for a larger trampoline to maximize jumping mat space, possibly to practice gymnastics or athletics.  
There are also other trampoline shapes, like square trampolines and oval trampolines, that are options if round and rectangle trampolines aren't quite what you're looking for.  
Square trampolines, like the Springfree Large Square Trampoline, are unique in that it comes with rounded corners—maximizing jumping space--with no hard edges. Oval trampolines mirror rectangle trampolines except their elongated shape may make it more accessible for recreational jumping.  
What Are the Best Round and Rectangle Trampolines? 
You may be curious to see examples of the best round and rectangular trampolines that you can buy. 
We won't use this article to go over the best trampolines in detail but check out our expert-led and objective "Top 6 Big Trampolines" List to see some of the best round/rectangle trampolines you can purchase this year.  The List goes over pros, cons, costs and who each trampoline would be a fit for! 
What Size of Trampoline Is Right for You? 
The shape of a trampoline is more important than you may think. As you now understand, the trampoline's shape affects who uses the trampoline, its safety, how it fits into your backyard, the jumping space, cost and installation/maintenance.   
But once you have figured out the shape of the trampoline you want, you need to figure out the specific size you want for a trampoline. Is it an 8 ft trampoline? 10 ft? 12 ft? 14 ft and above? 
That will be the next question you need to tackle on your journey to your ideal backyard trampoline. And at Springfree Trampoline, we make it our mission to use our insider expertise to guide you along as you search for the trampoline to provide your family with plenty of joyful moments. 
Check out our article, "What Size Trampoline Do You Need? (Honest Advice)" and get the right-sized trampoline that will not only fit your situation now but for years and years to come!