8 Creative Mother's Day Ideas to Celebrate Mom This Year!
Show the special motherly figure in your life just how much you care - discover our 8 fun ideas that are sure to make this Mother's Day one she'll remember!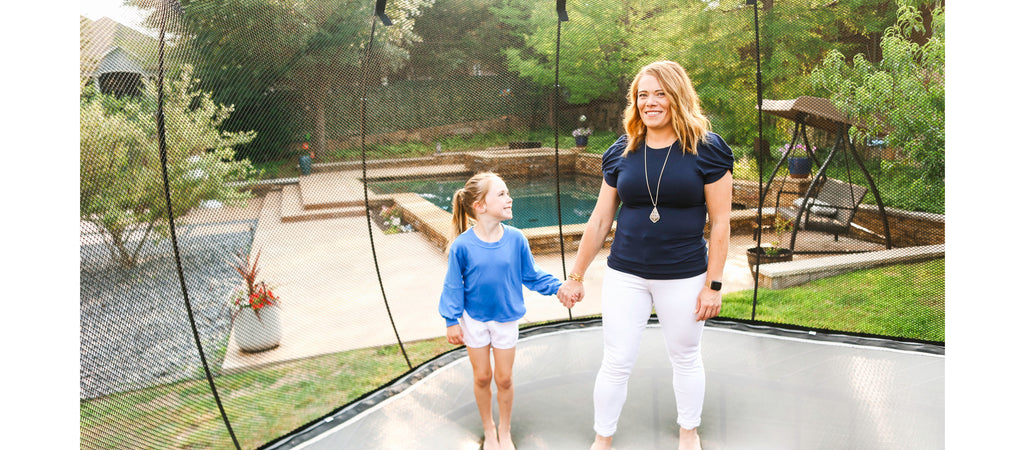 It's that time of the year again, when the most important women in your life are celebrated and appreciated for all that they do.  
Whether you're celebrating your mother, grandmother, wife or any other motherly figure, you want to do something special to show your appreciation on Mother's Day. 
As a company that values family above all, we at Springfree Trampoline, want to provide you with some inspiration to make this Mother's Day one she'll cherish forever. And since we're a company that prides itself on safe, outdoor fun, you can expect to see plenty of outdoor-related ideas in this article! 
We've put together a few creative and special ideas to commemorate whoever it is that you're celebrating for Mother's Day this year. 
8 Mother's Day Gift Ideas  
Below are eight gift ideas to celebrate all the mothers in your life this year: 
Set Up Breakfast Outside
Celebrate the most important woman in your life with the most important meal of the day. 
But instead of the classic "breakfast in bed" gift, make her favorite breakfast and set it up outside! Spring is the perfect time to spend outdoors (check out our "6 Backyard Spring Time Ideas." )
Start a Garden 
This next idea is also a good outdoor activity for moms that are aspiring or active gardeners.  
Gift your mom all the materials she will need to start growing the garden of her dreams. Gardens, much like our Springfree Trampolines, can add to a backyard's aesthetic! 
Book Subscription Box 
If your mom's a reader, she will love the gift of a book subscription box.  
There are many book subscription boxes to choose from, such as:  
Sticking with our outside theme so far, reading books is a great activity to do outdoors, by a pool, fire pit or trampoline! 
Play Outdoor Games 
Another way for mom to get the most joy out of her day is by playing games with the whole family. 
Classic outdoor games like cornhole and horseshoes are always acceptable as a gift idea for outdoor games.  You can also look at our Springfree Ball & Pump if you need an extra accessory!
Personalized Photo Album 
Photo albums are always a heartfelt way to show your mom appreciation by looking back at all the cherished memories you have had together. 
Unique idea: Gift her a personalized Mother's Day photo album and choose one picture from each year that you've been her son/daughter. Make it a tradition every Mother's Day to pick your favorite photo with your mom from the previous year and add it to the album! 
Spend Time With the Kids 
This next idea is a fun one to celebrate mothers and grandmothers of little kids. 
Plan out activities that both the little kiddos and mom can participate in together. If you're looking for suggestions, we have a Backyard Camping Kit that mom and the kids can both enjoy together! 
See the Backyard Camping Kit below: 
Spa Day (At Home) 
Mother's Day is typically associated with relaxation, so gifting mom with a spa-day treatment at home is always an excellent idea! 
Make a homemade face mask, order a personalized robe, get a few bath bombs and add in her favorite bottle of wine to make Mother's Day a day for mom to unwind.  
Plan a Hike + Picnic 
Circling back to our emphasis on outdoor ideas, take advantage of the good weather and plan a hike nearby! 
Better yet, grab your mom's favorite lunch and set up a picnic at a spot with a nice view.  
Need Some Backyard Ideas for Summertime? 
We hope these eight ideas spurred some thoughts in your mind about how you want to show the motherly figures in your life appreciation on their dedicated day.   
Which gift ideas stood out to you? Do you have any ideas or stories that you would like to share? Reach out to us and let us know how you'll be celebrating Mother's Day this year! 
Also, check out our "7 Backyard Summer Time Ideas" to learn some of the best ways to get the kids, and adults, outside as summer quickly approaches.  
And make sure to scan through our website for the latest deals on our springless trampolines. We'll be running various discounts throughout the summer, so if you're looking to upgrade your backyard with the world's safest trampoline, now would be a good time to invest!