How Long Do Springfree Trampolines Last? | The Truth
Learn the truth about how long a Springfree Trampoline lasts and how it compares to the lifespan of other trampolines. Find out if Springfree is right for you!
When it comes to longevity, some trampolines can fall a bit…short. 
The truth is that cheap or mid trampolines, while lighter on your wallet, may not last past 1-3 years. It's why many in the market for a long-term trampoline look toward Springfree as a potential solution to meet their trampoline goals.  
You've probably heard multiple things about the lifespan of Springfree Trampolines, but what's the truth? How long do Springfree Trampolines last?  
We're here to provide you with an honest and direct answer to that very essential question in this article. At Springfree Trampoline, we believe in providing the accurate information you need to decide for yourself whether a Springfree Trampoline is right for you.  
You will learn about the main factors that determine the lifespan of a trampoline, how long both traditional and Springfree Trampolines last and the features that factor into the lifespan of Springfree Trampolines. 
Trampoline Lifespan Factors 
No matter what brand of trampoline you're talking about, there are key fundamental factors that help establish how long a trampoline will last. They include: 
QUALITY: The strength and durability of trampoline parts play a major role in the trampoline safely surviving under consistent use/poor weather conditions. 

ENVIRONMENT: Where the trampoline is placed and how often it is exposed to inclement weather or direct sunlight is a key determinator of a trampoline's lifespan. 

FREQUENCY: How often the trampoline is jumped on, and how it is being used, also factors into how long the trampoline will last. 

MAINTENANCE: Cleaning the trampoline and ordering trampoline replacement parts when needed is crucial to maintaining the longevity of a trampoline. 
Check out our article, "How Long Does a Trampoline Last?" to see these factors expanded on in greater detail.  
How Long Do Traditional Trampolines Last? 
Before establishing a timeframe for how long a Springfree Trampolines lasts, let's go over the lifespan of traditional trampolines first so you have some context. 
Traditional trampolines are defined as those that use metal springs as the source for the bouncing system. If you grew up with a trampoline, it was almost certainly a traditional one (springless trampolines weren't introduced until the early 2000s).  
The longevity of a trampoline will vary by brand, but here are some general estimates for how long a traditional trampoline will last based on price range: 
Cheap trampolines ($100-$300) – 1-3 years 

Mid trampolines ($300-$850) – 3-8 years 

Premium trampolines ($850+) – 8-10+ years 
A traditional trampoline, courtesy of Wayfair: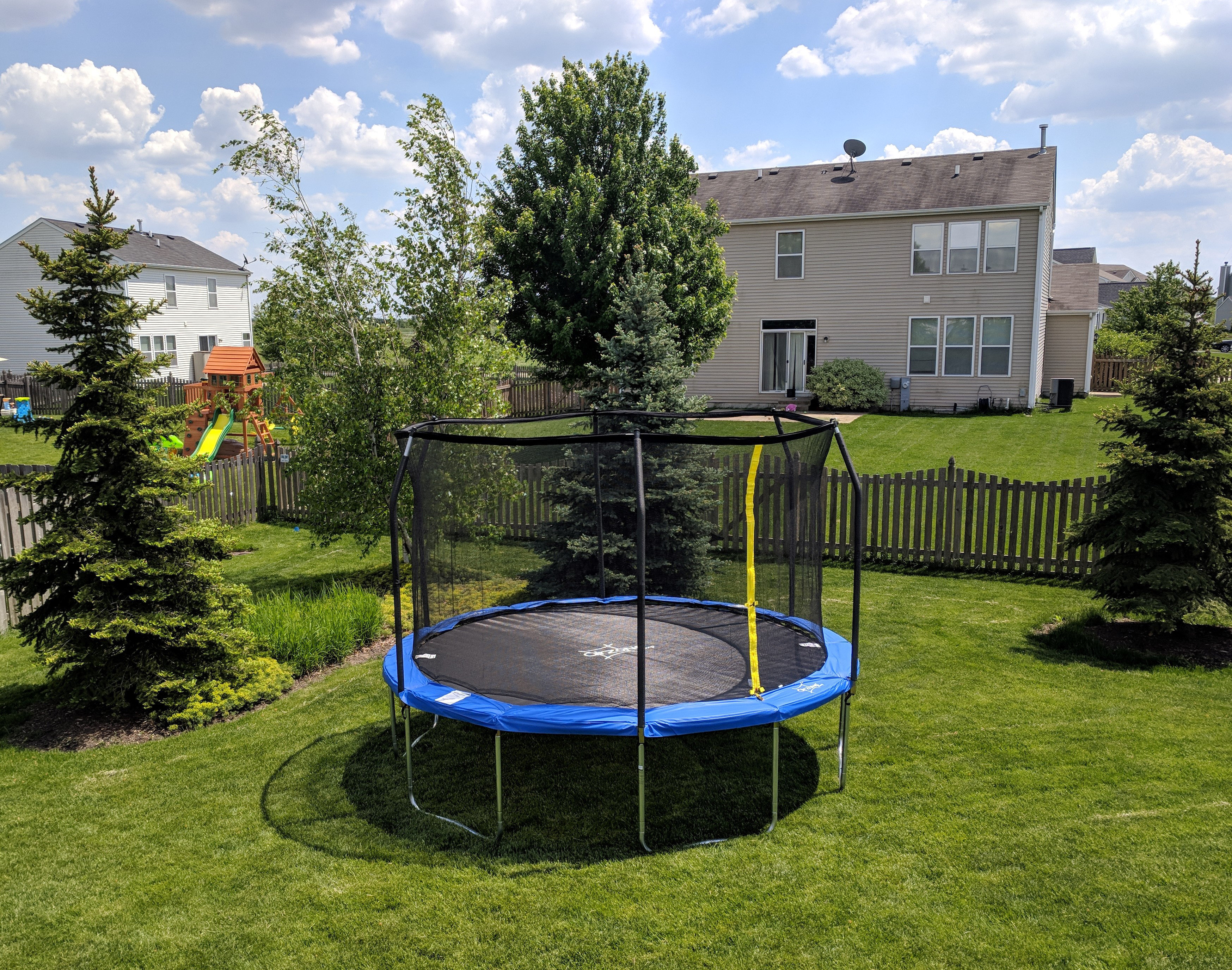 How Long Does a Springfree Trampoline Last? 
Here is the truth about how long Springfree Trampolines last: A Springfree Trampoline will last at least 10 years assuming it is reasonably used, and it will oftentimes last longer than that. That 10-year threshold rivals any other trampoline brand on the market. 
A Springfree Trampoline:  
3 Springfree Trampoline Lifespan Factors 
There are three primary reasons why Springfree Trampolines are the longest-lasting trampolines on the market. Let's isolate each factor to further discuss how Springfree Trampolines last so long: 
Trampoline Quality
First and foremost, Springfree Trampolines last because they are built with premium, sturdy, materials. This includes: 
Composite fiberglass rods that replace the springs to provide the bounce. They are three times stronger than steel, four times more flexible and are only used by the Springfree brand.   

A flexible net that is made using a lockstitch knitting method, similar to what is used in deep-sea fishing nets. 

A steel frame that is galvanized and powder-coated and includes three layers of rust protection. 

UV stabilization for all fundamental parts of the trampoline.  

Built to hold up to a static weight of up to 1,500 pounds (make sure to adhere to the individual trampoline weight limit though!). 
Considered the best quality trampoline you can find, Springfree Trampolines typically don't require much upkeep or replacement part changes. And if they do, the part that needs to be replaced may be covered under warranty. Speaking of…   
Trampoline Warranty  
With trampolines, the length of the warranty is typically a good predictor of how long it will last. Springfree Trampolines comes with an industry-leading 10-year warranty for ALL parts of the trampoline.  
A warranty covering the entirety of the trampoline is rare: Most trampoline manufacturers offer limited warranties that cover only certain parts of the trampoline.  
Trampoline Testing 
Springfree Trampolines are also the most rigorously tested trampoline on the market. Some of the testing undergone by Springfree Trampolines include: 
The trampoline mat is tested to three million jumps (at least 500,000 more than any other brand). 

All mats are UV tested for 5,000 hours. 

The frame and the bolts for the frame are tested for 3,000 hours. 
Springfree Trampoline is currently the only trampoline brand that controls the entirety of its manufacturing process, using its own custom-built machinery. 
They also individually assess every mat and net before packaging it—most brands only check around 5% of their trampolines before sending.  
Browse through our Springfree Trampolines here! 
Why a Springfree Trampoline Wouldn't Last 10 Years 
While Springfree Trampolines are supposed to last for 10+ years, not every one of them will.  
The trampoline must be used responsibly to sustain its longevity. Reasons why a Springfree Trampoline wouldn't last for as long as its warranty include:  
Improper installation. 

Constant roughhousing (we recommend one jumper at a time!).  

Repeatedly jumping while weighing over the trampoline's individual weight limit. 

Placing the trampoline where it receives consistent direct sunlight in very warm climates (consider a trampoline sunshade if the trampoline is placed in an open area where it's constantly sunny). 

Allowing pets onto the trampoline. 
Following basic trampoline safety rules will mitigate many of the reasons why a Springfree Trampoline wouldn't last as long as it should.  
Is a Springfree Trampoline Right for You? 
Assuming reasonable use, Springfree Trampolines should last for 10+ years, making it the longest-lasting trampoline on the market.   
Not only are they the longest-lasting trampoline, but they have also proven to be the safest and highest quality trampoline, too, recently winning the PTTA Top Product Award and Mom's Choice Award.
The features of Springfree Trampolines are, objectively speaking, the best you can find. That is why our springless trampolines are priced at a premium, and we understand that buying a Springfree Trampoline ($799-$3,999) may not be feasible for some.  
We don't want to leave any doubt in your mind that a Springfree Trampoline is worth it or not. That being the case, we have two honest and direct articles that can help answer any lingering questions you might have about Springfree Trampolines: 
Browse through our Springfree Trampolines to see all the sizes available!