Springfree Trampoline - 2022 Parent Tested Parent Approved Winner
We are excited to have received the 2022 PTPA Seal of Approval. Parent Tested Parent Approved!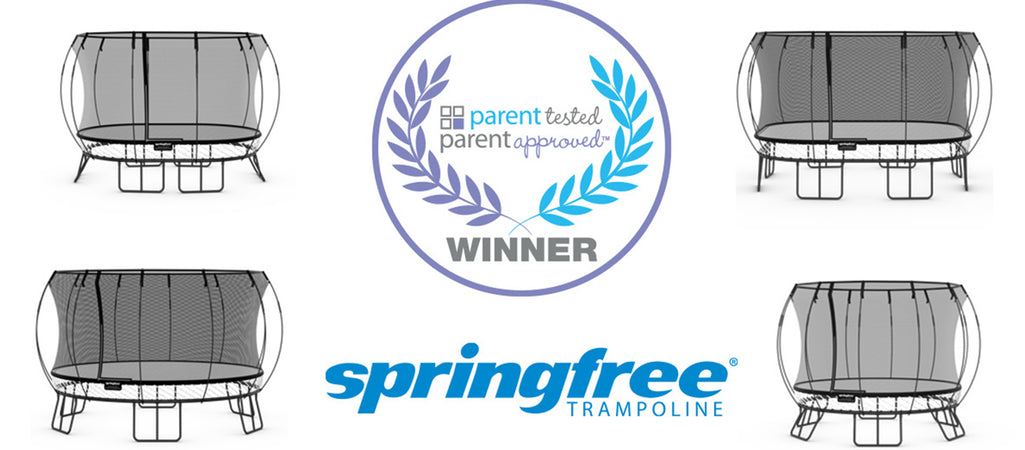 Springfree Trampoline has been awarded the distinguished 2022 PTPA (Parent Tested Parent Approved) Seal of Approval for demonstrating high standards and delivering on consumer expectations.
PTPA Media selected multiple testers to give an evaluation of Springfree Trampoline, from the comfort of their own backyards. Families evaluated their Springfree Trampoline by answering a series of questions about their experience. Safety, quality, ease of use, comfort, style and price were all considered as a part of their assessment. 
"We are proud to offer a product that is not only top-notch in safety and quality, but also allows people of all ages to create priceless memories in their own backyard," said Amy McIntee, VP of Sales, North America. "We are thrilled to receive this honor as the criteria of the PTPA Seal of Approval is in keeping with the Springfree standard, and we are grateful to be recognized by this outstanding organization." 
A parent's investment in a Springfree Trampoline has an invaluable return: their child's safety. Springfree Trampoline is the world's safest, highest quality, and longest-lasting trampoline. Redefining backyard play and helping families go outside and be active through innovation rooted in safety and quality, our patented safety design is the only trampoline on the market that eliminates 90% of all product-related trampoline injuries. We proudly stand behind our product and offer the most comprehensive warranty on every single component of our trampoline. With second-to-none engineering, premium materials and exceptional quality control and testing, your Springfree Trampoline is built to last - for a full decade.
We are very pleased and excited to have received the 2022 PTPA Seal of Approval. Parent Tested Parent Approved! The parents have spoken! Here are a few of the PTPA families testimonials. 
 Another PTPA Tester Testimonial Video
Other Springfree Trampoline Awards 
Other Articles You May Enjoy 
10 Reasons A Trampoline Will Change Your Life