A Guide to Buying the Safest Trampoline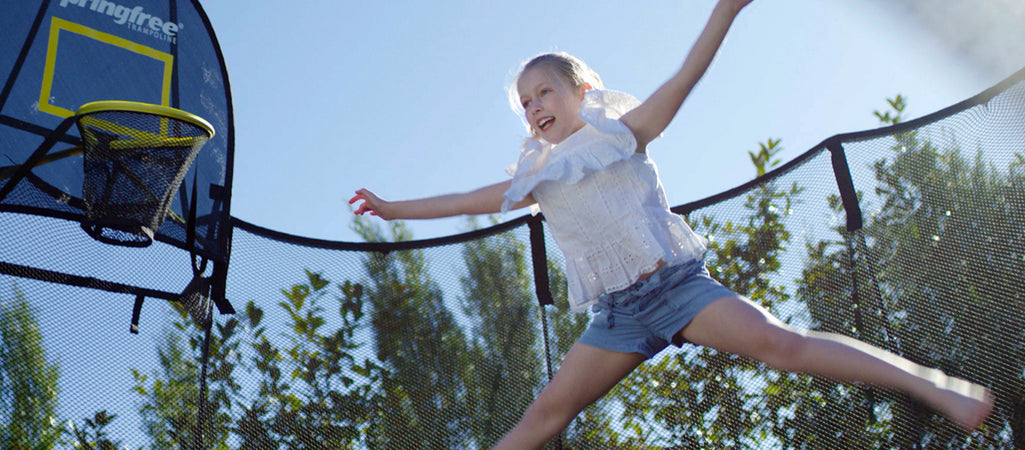 Trampolines are a great way for kids to have fun, exercise and develop coordination, but unfortunately they're also a common source of injuries. 
When safety is a high priority for you, what do you need to consider when looking for the safest trampoline? 
Here are our recommendations on how to buy the safest trampoline.
FRAMES
SAFETY CONCERN: With traditional trampolines the frame surrounds the outside of the mat, leaving your children vulnerable to landing on the hard, often, metal structure. You can understand how a collision with the frame can result in serious injury. 
LOOK FOR: There are trampoline models available where the frame is completely out of range to little jumpers, with the frame sitting below the jumping area. Meaning a collision could never happen while jumping on the trampoline. You also want a frame that is strong and of good quality to survive our weather conditions and not buckle over time. 
EXAMPLE:
Springfree trampolines have a 
SoftEdge®
 that is enclosed with our
FlexiNet®
 under which you'll find the 
hidden frame
, with three layers of rust-protection for our harsh weather conditions. So there is no hard frame in sight or jumping range.
SPRINGS
SAFETY CONCERN: We've all been there… those traditional coil springs are notorious for pinching little fingers and toes and also for not being a solid place to land your feet with the space between each spring wide enough to fall through, should your jump go awry! While a lot of spring trampolines do come with mats, these can move about as jumpers use the trampoline and they also deteriorate quickly in our harsh weather conditions. 
LOOK FOR: Trampolines that do not use a traditional coil spring system. Instead look for a springless system where rods sit below the mat, meaning no harm can come from bouncing. This is the only way to guarantee safety from the 'springing' mechanism.
EXAMPLE:
Springfree trampolines use a
rod-based system
that sits between the frame and net, away from jumpers with no collision possible while jumping.
SAFTEY NET + ENCLOSURE
SAFETY CONCERN: Firstly, if there is no safety net on the trampoline, the risk is obvious. If your jumpers lose control, they first risk hitting the springs, the frame and (without the net) the ground – which could be grass, concrete, timber… all hard! There are some trampolines that come with nets; however the poles that hold the nets up are often also rigid and solid, so while the surface of a pole is smaller than the ground, there is still a huge risk of hitting these poles and causing injury.
LOOK FOR: A net and rod system that extends high enough for high jumpers and moves with the jumper so that no matter how out of control their jump goes, the net will catch them and guide them back to the middle of the mat. Also no matter how out of control they jump, the rods will always move in the same direction.
EXAMPLE:
Springfree trampolines use a
FlexiNet®
and flexible net rods to protect their jumpers from hitting a hard surface of any kind and keeps them in play for longer.
OTHER CONSIDERATIONS
Accessories that are worth considering when purchasing a trampoline to ensure further safety include:
A shade cover – with our hot summer days and enthusiastic jumpers, you want to ensure they are protected from sunburn or heat stroke. The covers will keep them sheltered from the sun as they enjoy hours of play with their favourite toy. 
>> All Springfree trampolines have a
sunshade accessory
available to purchase with the trampoline.
A step ladder – as trampolines are high off the ground, provide a ladder for the smaller children to get in and out of the trampoline safely and easily. However, ensure this is removed when not in use.
Also, make sure you check out trampoline reviews of the brands you are considering to get feedback on customer experiences.
So while many trampolines claim to be safe, it is so important to really understand what makes a trampoline safe. We practice what we preach, and have built a trampoline that has removed all the impact points that cause 90% of all product-related trampoline injuries. 
So what about the other 10%? These come down to the safe jumping rules: 
1.
Flips and tricks are a no-no
An
independent consumer group
regularly reviews trampolines on the market and you can see the results of their most recent review from 2019
here
. The Springfree Medium Round has consistently been the only trampoline to pass the safety tests showing no major failures and getting a performance score of 100%. All other trampolines tested received a performance score of 20% and had an average of 4 major failures. 
Trampolines are still such a great toy for children to be able to enjoy the many benefits of being active. And they can enjoy these benefits while remaining safe. One does not need to negate the other. In fact, we'll let a couple of our safety-conscious customers have the last word on this…  
Kids are 7, 8 and 9. We upgraded to a new Large Oval after 7 years of hard use from young kids, and two house moves with the trampoline. The upgrade process was easy, fast and affordable - and the best part is the new 10 year warranty will take us through til the kids are adults! The Springfree Trampoline is not only safer for jumping, but gave our girls (so close in age) the opportunity to play in our yard safely rather than go to the local park when I can watch from inside. They live between the trampoline and the kitchen! Screen time is self regulated and the kids always choose to play outside on the trampoline instead! The large oval has been awesome for us 'oldies' to show the kids how to really jump! Never had any troubles or injuries on our Springfree, and I work in an emergency department where I see it all! Would choose no other brand than Springfree for this exact reason!!
Mim


Knowing first hand the dangers of a regular Trampoline after suffering permanent facial scarring from being caught in the springs of a regular trampoline as a child, the purchasing of the Springfree Trampoline for my children 12 yrs ago was a blessing.
Not only has the Springfree Trampoline provided me the peace of mind for my children's safety but it has withstood the test of time and the elements.
12 yrs on and my daughters still use the Springfree Trampoline all the time for jumping, laying out under the stars and many other games using their imaginations.
Highly recommended.
Dee