Looking for a safer trampoline to buy for your family this year?
When the topic of trampolines comes up, safety naturally follows right behind it. Understandably, some parents/guardians of children are hesitant about purchasing a trampoline due to the chance of injury.
Since there are around 100,000 trampoline injuries a year, some credence is given to the caution of investing in a trampoline.
But the truth is, if you buy a trampoline that has adequate safety features, you are greatly mitigating your chances of a product-related injury.
Today, we're going to use our expertise to list the three safer trampolines you can buy this year based on a criterion of the most important trampoline safety features.
At Springfree Trampoline, we created the world's safest trampoline, backed by independent research, so we know a thing or two about trampoline safety.
We will highlight three safer trampolines at different price points: One cheap trampoline, one mid-budget trampoline and one premium trampoline so you have an option no matter what your budget for a trampoline looks like.
How This List Was Made
We're open and honest about how we conduct these "Best Of" Lists and want to let you in on the benchmark we used to assess the trampolines in this article. The following features will be the ones evaluated for each trampoline, as they make up the most important trampoline safety features:
Trampoline Net (Enclosure)

Bounce System

Jumping Mat

Trampoline Frame

Trampoline Poles

Single Jumper Weight Capacity (i.e. trampoline weight limit)

Accessibility Options

Weather-Resistant Features
Top 3 Safer Trampolines for This Year
The trampolines included on this List exhibited safety features that were considered noteworthy for their respective price point.
In full transparency, one of our Springfree Trampolines will be included in the "Premium" Section of this List. If you're impartially discussing the safest trampolines to purchase, a Springfree Trampoline must be included due to its unique and empirically backed safety measures.
Just because another trampoline wasn't included on this List doesn't mean it's not a safe trampoline. This is just one expert's perspective—we encourage you to look at all your options before buying a long-term, backyard trampoline.
With all that out of the way, let's dive into the list!
***The trampolines below are ranked by price point, going from lowest to highest price.
Trampoline Net (Enclosure) – Comes with a high-density enclosure net but it is not made from the strongest material. A net that is breaking down is considered a safety hazard.

Bounce System – Uses metal springs that are outside of the net to provide the bounce.

Jumping Mat – The mat is a typical trampoline jumping mat and is waterproof and UV (ultraviolet)-treated.

Trampoline Frame – Frame is coated in galvanized rust protection and powder coated.

Trampoline Poles – Uses a curved-pole concept that helps protect against injuries to wayward jumpers, but the poles do not flex.

Single Jumper Weight Capacity – 400 pounds, which is about as high as you will see on a 12 ft trampoline.

Accessibility Options – Zips open and close for entry and exit and comes with a ladder to help with getting on/off the Trampoline.

Weather-Resistant Features – The mat is UV treated and waterproof, and the Trampoline comes with four wind stakes.
Verdict: For a cheap trampoline—which notoriously are unsafe---Jumpzylla's 12 ft Trampoline has some notable safety features. The curved pole concept and high weight capacity, along with the included ladder, are the features that stand out most.
However, the material from which the Trampoline is made means it might not last past 1-3 years or hold up in windy or inclement weather. This could cause numerous safety hazards if the trampoline starts to fall apart.
Jumpzylla's 12 ft Trampoline only comes with a one-year warranty for the entire product and warranty length is typically a strong indicator of how long the trampoline will last.
If you're looking for a cheap trampoline to use for a short period of time, Jumpzylla's 12 ft Trampolines have some unique safety features compared to other trampolines at similar price points.
Cost: $339.95
Photo courtesy of Jumpzylla.
Trampoline Net (Enclosure) – Net is made from 100% polyester and clips down to the jumping mat around the trampoline. This helps decrease the chances of a falling injury once the door is zipped shut.

Bounce System – Uses metal springs that are outside of the net.

Jumping Mat – Typical trampoline jumping mat.

Trampoline Frame – Uses a dual-ring frame, with 42mm steel tubing used for the upper ring and 38mm tubing used for the lower ring.

Trampoline Poles – Poles are curved away from the trampoline slightly to help lower the risk of contact. They don't flex, however.

Single Jumper Weight Capacity – Up to 200 pounds.

Accessibility Options – Zips open and close and may come with a ladder.

Weather-Resistant Features – All metal components are six-layer rust-proof and galvanized inside and out with zinc coating. Visible metal components are finished with a UV-resistant black powder coating. A 10-year warranty suggests it should be able to hold up under inclement weather.
Verdict: Jumpflex's HERO 14 ft Trampoline has a strong structure and net, making it a safer mid-budget option for a long-term backyard trampoline.
While the poles are slightly curved, there is a chance for injury to wayward jumpers if enough force is applied to the net. There are also potential gaps that could be created between the net and mat, which can expose a falling area or open jumpers up to the metal springs. It also has a comparably low single-jumper weight capacity.
Overall, Jumpflex's HERO 14 ft Trampoline is a worthy mid-trampoline option for its durability and strong structure, and although it's not the safest, it does have some noted features that make it a good option for mid-budgets.
Cost: $799
Photo courtesy of Jumpflex.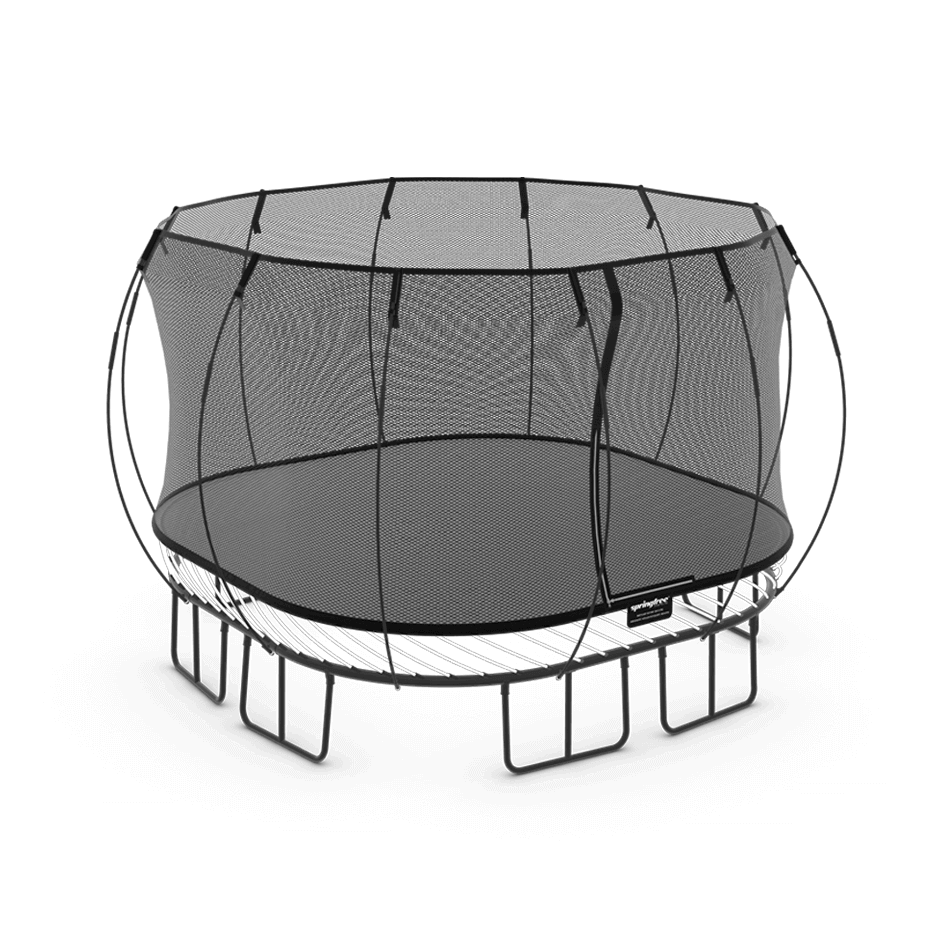 Trampoline Net (Enclosure) – Net flexes when jumped into, cushioning jumpers and preventing falls to the ground.

Bounce System – Uses flexible composite rods instead of metal springs to provide the bounce, completely eliminating spring-related injuries.

Trampoline Mat – Comes equipped with a SoftEdge Mat (no hard edges) that is 30 times more shock absorbent than safety pads, which cover the springs on traditional trampolines.

Trampoline Frame – Contains a frame that is hidden from the jumper's perspective—it's placed below the jumping surface. It includes three layers of rust protection.

Trampoline Poles – Uses flexible enclosure rods that remove the need for metal trampoline poles, which can cause injury to wayward jumpers.

Single Jumper Weight Capacity – 220 pounds, which is about average for a trampoline of this size (11 ft x 11 ft).

Accessibility Options – Includes a zip open-and-close entry and exit. A trampoline ladder can be purchased for $99.

Weather-Resistant Features – Every element of the trampoline is UV-protected, it's sturdy enough to survive in strong winds, heavy snow and direct sunlight exposure for at least 10 years or longer (comes with a 10-year warranty for all parts).
Verdict: The Springfree Large Square Trampoline is top-of-the-line in terms of trampoline safety, with features such as a flexible net, springless design, SoftEdge Mat, "hidden" frame, the use of enclosure rods instead of poles and the quality of materials used that can help it withstand inclement weather conditions for the long haul.
The Springfree Large Square Trampoline's single jumper weight capacity and accessibility to the Trampoline are average compared to other trampolines. They are the only trampoline safety areas where Springfree doesn't rank at the top.
If you're looking for the safest trampoline and can justify the high price point, the Springfree Large Square Trampoline would be best for you.
Cost: $2,299
Photo courtesy of Springfree Trampoline.
If you enjoyed reading through this List, check out some of our other "Best Of" Lists:
Which Safer Trampoline Is Right for You?
Safety is paramount when it comes to trampolines and the type of trampoline you buy is crucial to ensuring that your jumpers are safe while enjoying the trampoline.
The three trampolines assessed today are considered by us as trampoline experts to be safer trampolines for their price points. These, of course, are not the only trampolines that could pass as safe trampolines. However, they should give you a sense of what to look for when researching for a safer trampoline.
Now that you've seen some trampolines, what comes next?
As a company whose aim is to provide you with the resources you need to make a successful trampoline purchase, we have a couple of free tools that can help guide you as you look for a safer trampoline:
Our Augmented Reality (AR) Tool will let you virtually place a Springfree Trampoline in your yard, using your phone, to help you get a sense of what size would look best at your house. 

Our Model Selector Tool automatically generates Springfree Trampolines that would be a fit for you based on your response to three simple questions.  
Even if you don't want a Springfree Trampoline, these tools will help lead you to the right-sized trampoline you need for your backyard.
If you would rather talk with an expert, reach out to us and one of our professionally trained representatives will be there to offer an informed opinion of your situation to make sure you get the right trampoline the first time around.