Let's face it. Sometimes motivation can be hard to find. While we all want to embrace a healthy, happy and active lifestyle our busy day-to-day schedules can make it hard to find time for exercise.
Especially now with Christmas just around the corner, life is getting busier – but we've got you covered with our top tips to stay motivated now and during these holidays.
Love Your Exercise!
Rather than punishing yourself with exercise you really don't enjoy, make your exercise activity something you love. The best kind of exercise is when you're having so much fun you don't realise you're getting a workout!
Plus, you'll exercise for longer doing something you enjoy – you won't be watching the clock waiting for the torture to end.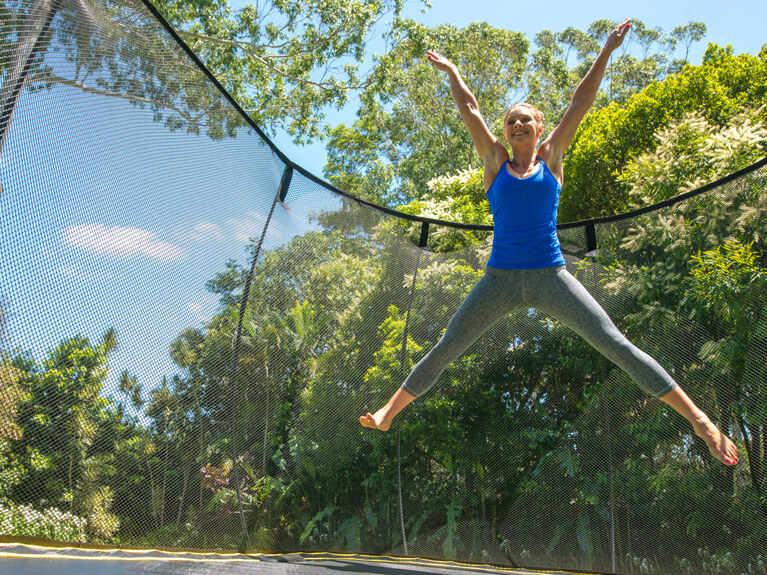 Exercise Should Be Fun!
At Springfree Trampoline, we believe exercise should be fun. We believe in getting families engaged in outdoor, active fun. That's why we created our Smart Trampolines.
Jumping on a trampoline is sheer joy. You feel the weightlessness, the childlike joy of defying gravity – it's almost impossible to bounce and NOT smile! And you get a great workout to boot!
And with our trampolines, your body is the controller as you jumps control fun, educational and active games, and sensors on the mat detect your every move! You'll lose track of time as you jump around actively, squashing fruit, stomping aliens – and you'll complete an intense cardio workout without even realising you're working hard! It'll take your mind off the fact that you're exercising, while you simply enjoy the fun of active and interactive play!
Get Some Help
We designed the tgomaFit app within our Smart Trampoline technology specifically for adults. It's fitness made fun (yes there IS such a thing)!
Work through a range of great exercises and goal-specific workouts by a professional trampoline coach. You'll know you're doing the right exercises to achieve the goals you're after, the guided videos will ensure you're doing each part right, and you'll be able to see how many jumps, exercises, and repetitions you've got left – keeping you motivated every part of the way.
There's also real-time stats to show you just how much you've achieved – so you'll know you're getting a great workout – without having to spend all the time at the gym.
And the best thing about these workouts, is that they're short and quick, having been designed for busy parents. 10 minutes jumping on a trampoline is the equivalent of a 30-minute run, so you'll get maximum bang for your bounce.
Active Family Time
At Springfree Trampoline, we believe family time is important. Make your exercise more rewarding by turning it into family time.
Try to do as many active activities with your family as you can, and you'll feel like you're achieving in more ways than one.
If you see the kids jumping outside on the trampoline, go join them – our Smart Trampoline technology allows you to play together, while still keeping to the one-at-a-time safe bouncing rule.
Take turns seeing who can get the most jumps in a minute, or who can get the highest score on Alien Stomp or Fruitants – or do a level each, and see how many levels you can get to as a family unit until you're all worn out. Laughter is guaranteed!
Just Start Somewhere
Eating healthy and exercising often go hand in hand. Ever find that you're better behaved with your eating habits just after you've had a great workout? It's human nature too.
If you just start somewhere, you'll find it's easier to keep going. Make a concerted effort to do bits of exercise that you really enjoy every day, and to eat healthy, and you'll find it easier to do both in next to no time.